5 Amazing Beach Resorts in Lagos
Lagos is a beautiful, commercial mega-city. Beach resorts in Lagos are some of the places you can go to escape the daily struggle and noisy environment. There are a large number of beautiful beach resorts in Lagos?that are perfect holiday destinations, weekend getaways, retreats and romantic getaways. ?Although they appear to cost a fortune, they are worth every penny you pay and offer luxurious and welcoming services for your delight. Below are 5 amazing beach resorts in Lagos, where you can spend your weekend and romantic getaway or holiday: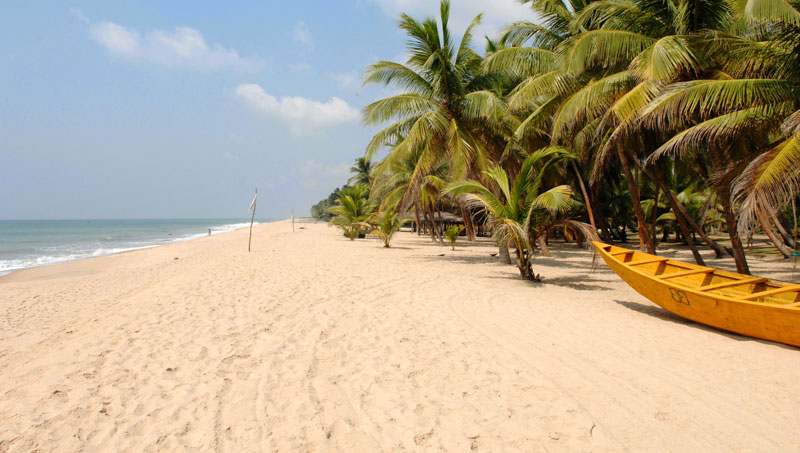 This exquisite 65-acre beach resort is situated along the Lekki-Epe Expressway, about an hour?s ride from Victoria Island, Lagos. It is renowned as one of the best resorts in Lagos for an exclusive romantic getaway. The amazing beach resort features include a freshwater laker, mangrove forest, savannah and fine sandy beach. You can engage in activities like hiking, swimming, hunting, fishing, canoeing, horse riding, snorkelling, beach football and beach volleyball. La Campagne Tropicana Beach Resort offers an African style hospitality with modern luxury. It has standard, state-of-the-art facilities and enchantingly ornamented accommodation. The resort restaurant serves international delicacies with an exceptional African flair.
2. Inagbe Grand Resort
Inagbe Grand resorts were developed by Gran Imperio Resorts Ltd (a subsidiary of Gran Imperio Group, a real estate development conglomerate). This beach resort is a haven of refined elegance and luxury. It is situated on the serene banks of the glorious Lagos lagoon and the Atlantic Ocean. The Inagbe Island, where the resort is located, is about 15 minutes from Victoria Island, Lagos by boat ride. You can get a charter boat from the Regatta Jetty on Oyinkan Abayomi Drive (formerly Queens Drive) in Ikoyi axis. There is a blend of nature, culture and tradition in the outstanding landscape, clear skies, sandy beach and striking nature at the resort. The customer service here is classic, and the atmosphere is beautiful and peaceful. The resort rooms, which include standard rooms, deluxe rooms, ocean view executive rooms, a 2 bedroom bungalow, and a 6 bedroom villa
,
are spacious and beautiful. Each has an en-suite bathroom, flat screen TV with satellite television channels and in-room telephone. The resort restaurant offers international delicacies while the bars provide a relaxing atmosphere for drinks. There is a Children?s park, Horse ranch, swimming pool and football pitch. You can engage in various activities such as Horse riding, Quad bike riding, Swimming, Beach volleyball, Beach football; as well as Golf, Lawn tennis, Table tennis, Snooker, Basketball, Spa treatment and Resort jungle tour. It promises to be a memorable experience.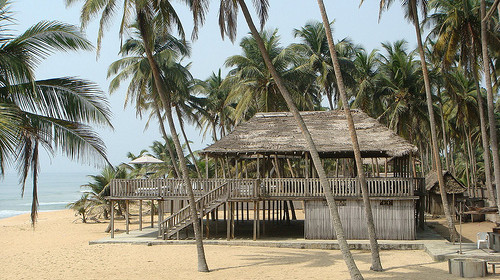 Also called Akodo Beach, this beach resort is one of the luxury beach resorts in Lagos, and? is located at Kilometre 22, Lekki-Epe Expressway, Ibeju, Lekki, Akodo, Lagos. It is about 5 minutes away from the Lekki Free Trade Zone and the International Airport at Lekki. It is said to be one of the most well-organised beach resorts in Lagos and has lovely lodges, amusement parks, a peaceful swimming beach and coconut grooves. The 70 ocean and garden view rooms are?exquisitely furnished and offer premium comfort and relaxation. The environment has a conducive and attractive ambience. Asides that, there are 40 beach shade cabanas, which include chaise lounges and towels. The beach has three a-la-carte restaurants, which include the Eko Akate house, Marmundo and the Atlantic Caf? & Beach Bar. All these serve quality delicacies and drinks with live music playing. There is Spa Kike, an exotic Caribbean-Balinese spa, which offers rejuvenating healing massages and revitalizing facials, masks and nourishing wraps. You will enjoy free Wi-Fi and internet terminals, and there is also a library, fitness room, gift & deli shop and freshwater pool. This is one of the coolest beach resorts in Lagos that you just have to visit.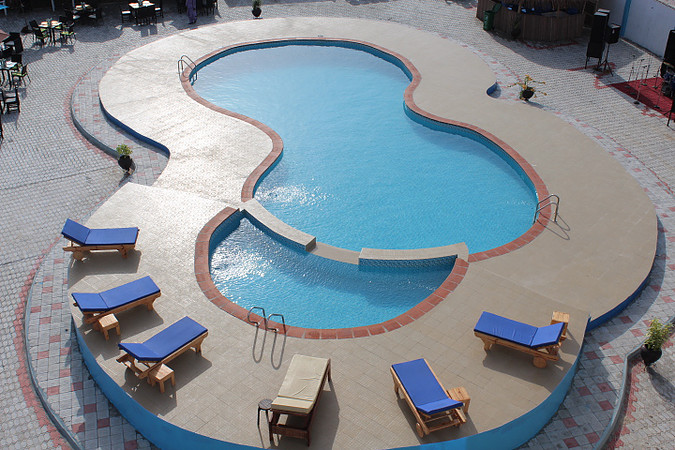 For a nice view of the Atlantic Ocean, this private beach resort in lagos housing great facilities is the right spot for you. It is about 20 kilometers away from Victoria Island and is located along Abraham Adesanya Road, Ajah, Lagos, about 10 minutes?from Abraham Adesanya Estate, off the Lekki Expressway. It is a well-managed resort with fine white sand, a clean environment, comfortable lodges and a cool restaurant. Every Friday, a live band performs in the evening to entertain visitors. There is a private playground for kids to play around. This beach resort in Lagos is a perfect destination spot for relaxation, personal or group hangout.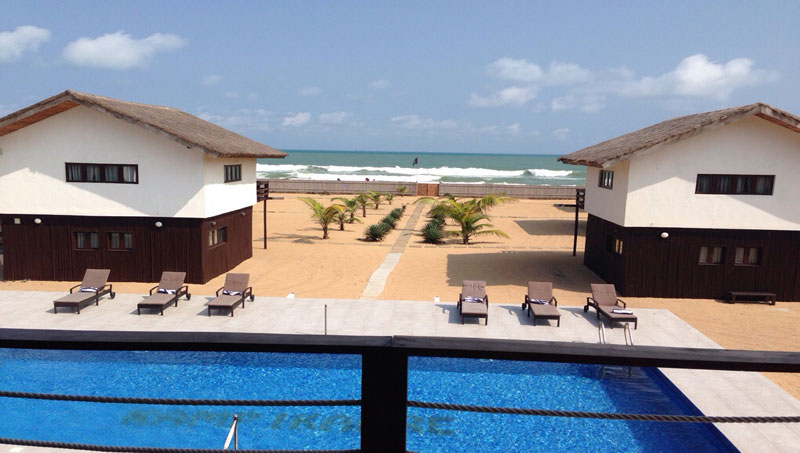 This private beach resort is located on a stretch of Lagos coast, very close to Ikare Village, Badagry, Lagos. It is a lovely relaxation spot?and can be accessed only by boat but it has great facilities and services that will give you an enjoyable beach experience. The resort has central communal beach house alongside 6 duplex cabins with washroom facilities and private beach gardens. It also has?cool palm trees, pure blue water and fine sand as well as cabins that provide a good view of the sea and can contain a maximum of five persons. There is the Klassic Suite and the Kouch Suite; The Klassic Suite has a capacity of 4, while the Kouch Suite is for just 1 person. Asides the suites, there are the Kamp Krib and the Kamp Kot. The Kamp Krib are Moroccan-styled rooms located on the Penthouse floor of the Kamp House. They function as a well-furnished lounge space for relaxation. The Kamp Kot, on the other hand, functions as a simple makeshift sleep pod for a person. It consists of a single bed, which is made up of linen, a covering mosquito net, and fan. It offers basic sleeping space and it is very suitable for retreats and getaways. A day on the beach or a night in one of their fully air-conditioned and well-furnished bungalows at Kamp Ikare is an awesome beach resort in Lagos that offers an experience that you will never be forgotten. If you are staying overnight, breakfast will be provided for you and you will get home cooked lunch during the day.
Other Exquisite?Beaches to Visit in Lagos include...
The resort is situated in a serene environment close to the Calabar river, fondly regarded as a "little Country of everything awesome".?From the different exhilarating fun facilities available for leisure to the retail and wholesale shops and warehouses available for business on both a small and large scale, Tinapa excitingly integrates business and leisure into one giant wonder-town!
Aptly named for its Coconut trees, this is a favorite beach in the coastal town of Badagry. The beach is located about 20 miles towards the border of?Nigeria and the Republic of Benin. It is a great place to visit as a couple because it is a Coconut Beach far removed from the noise of suburbia and is instead surrounded by holiday resorts, vacation huts, fresh air, palm trees, fresh air and an open sky.