Lagos to Ibadan By Road: A Traveller's Guide
Ibadan, the capital of Oyo State, is the largest city in Africa by land mass.?It is also reportedly the 3rd cheapest city to live in Nigeria. The city of Ibadan is rich in natural beauty, history and culture. There are numerous interesting places to visit such as IITA Forest, UI Zoo, Agodi Park, National Museum of Unity and Cocoa House. For the most people, road travel from?
Lagos
to Ibadan is the default way of between the two cities. ?It is cheaper than air travel and also affords passengers a chance to take in the scenic route. Even though road travel between the two cities is popular, finding a ride for your trip, may prove to be challenging if you don't know what to do. We've prepared a quick and easy guide to help you on your journey from Lagos to Ibadan.
Getting Ibadan Bound Buses from Lagos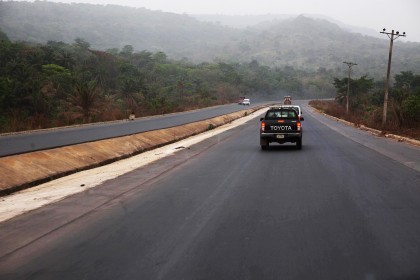 There are various bus parks where you can easily find transportation from Lagos to Ibadan.
Oshodi Motor Park
At the Oshodi Park, ?you will find a selection of vehicles bound for Ibadan. ?The average bus fare costs about N1300.

Ojota Motor Park
If you are staying in central Lagos Mainland, ?Ojota Motor Park is likely to be most suitable for you. ? Inside the Park, you would find minivans and buses ready to transport you to Ibadan. The transport fare generally ranges from N1,200 -N1,500 naira depending on the type of vehicle.
Ikorodu Motor Park
At Ikorodu, you can find the several types of vehicles, such as taxis, minivans, and buses. The bus fare is within the range of 1,000-1,200 Naira and the taxi fare goes for 1,400- 1,600 Naira.
Travel time from Lagos to Ibadan
The trip from Lagos to Ibadan takes approximately 2hours, 30 minutes, taking into consideration road and weather conditions.
How to Pack
Try to pack as light as you can. It will make your navigation to and around the bus park less stressful and also save you from extra charges for large luggage.
If you are in possession of heavy luggage, you will most likely be approached by porters persistently demanding to help carry your luggage. Note that these porters are not staffs of the transport companies, so patronising them is not advised. Keep a very good eye on them, if you have to make use of their services.
Avoid packing or wearing any camouflage material. This material has been banned and law enforcement officers are likely to embarrass and extort money from you for flouting the law.
Do not pack food, snacks or fruit that are likely to upset your bowel during the journey. Public bathrooms along your trip are not likely to be convenient or suitable for use.
Pack an interesting magazine/book/ novel/newspaper along if you fancy reading. This will help eliminate boredom during the trip.
Music is a good way to relax. Pack a music player or any device that can play music, along with earphones of course. You wouldn't want to be a nuisance to other passengers.
What to Eat
There are a variety of snacks to pick from at the parks and you can buy whatever you want ahead of the trip.
Where to Stay in Ibadan
There are some great
hotels in Ibadan
available for you if you plan to spend a couple of days in the city. There are different categories of hotels for any need you might have, whether you?re looking to splurge on luxury, or you?re trying to find comfort on a budget. Some hotels to stay in include
Carlton Gate Hotel
,?
The Orchard Hotel
,
Bimples Hotel
,
Crown Hotel?
and
Supreme Hotel and Suites
.

Travel Tips
Evacuate your bowels before leaving the house.
Take security precaution; make sure you fill the personal information form supplied to passengers. It is also important to take note of the licence plate number of the vehicle. Pass on the plate number?to as many friends as possible. Ensure that the driver sees you taking down the plate number, that way he is aware that you have take precaution (in case he intends to harm you).
Make sure your most valuable possessions are kept close to you. This will help to prevent theft and avoid having your fragile valuables stacked carelessly in the trunk.
May prefer sitting up front beside the driver. it is generally regarded the most comfortable seat in the vehicle. It?s also within easy reach of the charging port. This means you can listen to music, surf the internet without running your battery down.
Nevertheless, leave the house with a full charge and a power bank if you have one.
On getting into Ibadan, your bus is likely to terminate somewhere Iwo Road. From Iwo Road, you can find transport means to all parts of the city. Have a safe trip!
You might also like to read...
Ibadan has its own fair share of landmarks, historic sites, and tourist attractions. The Cocoa house, museum, Aare hill, bower memorial tower are some wonderful attractions that this city boasts of. A lot of mega industries and manufacturing companies also populate this part of the country. Ibadan is a city that?s highly frequented by businessmen, CEOs, VIPs and the likes. As a result, it?s not surprising that the number of top hotels in Ibadan is almost inexhaustible. We've provided a good compilation of the?
best hotels in Ibadan
.
Do you love traveling to places to unwind and have fun? Are you new to Ibadan and you are interested in fun things to do in Ibadan? You are in the right place. There are several fun things to do in Ibadan. You just need a little help getting around and finding the fun places, and we've got you covered.