Lagos To Accra By Road: A Traveller's Guide
Accra
,
the capital city of Ghana, is a popular West African destination for tourists around the world. The city offers a perfect atmosphere for relaxation and yet maintains the bustling nature of a metropolitan West African city. Accra attracts tourists for various reasons. For you, however, there a couple of reasons you should travel from Lagos to Accra and make the journey by road. Accra is perfect for a family vacation or a couples' getaway for those on a budget. It offers beautiful beaches, historic monuments and hospitable people. Accra is also home to a lot of Ghana's art and culture. You would return with more souvenirs than you can imagine, from Kente to beautiful art pieces. What's more, Ghanaian traders are accustomed to haggling (
pricing
) too, so you would feel right at home.
Choosing A Transport Company
Different companies offer different perks like discounts for children and students, DVD players on their buses, etc. Let's talk about a few things to consider before booking your bus ticket from Lagos to Accra. First things first, you will have to consider your
budget
. Pick a transport company, that offers a price you are comfortable with. It would also be advisable to choose to travel from Nigeria to Ghana with a transport company which is
closest to your home
. This would reduce the risk of you arriving at the park late and miss your bus. The
bus benefits
are also very important. Try to find out if there's lunch is available, or a movie on the bus. Be sure to do your own research to get an idea about the comfort level of the buses of each transport company.

Finding Accra Bound Buses from Lagos
There are various road transport companies available in Lagos that travel from Nigeria to Ghana on a regular basis. They include:
1. ABC Transport
Location
: Amuwo Odofin Bus Terminal
Average Price:
N15,500
Address
: Plot 79, Oba Kayode Akinyemi Way, Amuwo Odofin, By FESTAC Bypass, Lagos
Tel:
080340409964,
018793076
,
08053001000, 08142552436
Email
:
[email protected]
*Online booking is available, the first bus leaves at 6:15 am daily. There are 2-3 buses available daily.
Location
: Jibowu International Terminal
Average Price
: N13,500
Address
: 6 Ikorodu Road, Jibowu, Yaba, Lagos
Tel:
0806517669, 08089273799
Email
:
[email protected]
*Online booking is available, 1 bus available daily at 6:00 am

3. EFEX EXECUTIVE Transport
Location
: Yaba Terminal
Average price
: N14,00 - N16,500
Address
: 77/79, Murtala Muhammed Way, Yaba, Lagos
Tel
: 08077790250
Email
:
[email protected]
*Online booking is available via 3rd party platforms, 2 buses available daily, the first bus departs at 6:00 am
4. Cross Country
Location
: Yaba Terminal
Average Price
: N18,500
Address
: 345, Murtala Mohammed Way, Yaba, Lagos
Tel
: 08067024485, 07060418477
Email
:
[email protected]
*Online booking is available via 3rd party platforms, 3 buses available daily, the first bus departs at 6:00 am
5. GUO Transport
Location
: Alafia Terminal
Average Price
: N20,550
Address
: Alhaji Orire Street, Coker, Alafia, Lagos
Tel
: 08174594910, 08075090620
*Online booking is available via 3rd party platforms, 1 bus available daily, the bus departs at 6:00 am.
Please note
: Prices often increase during festive periods and so do the number of buses leaving to Ghana per day.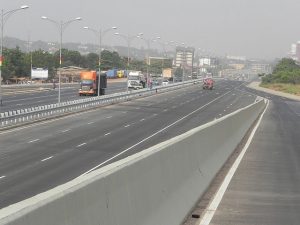 Travel Time from Lagos to Accra
The journey from Lagos to Accra by road should take about 9 hours to cover a 461.7 km distance. If you departed Lagos at the same time as those leaving for Abuja, you would arrive at Accra about 3 hours before them. The trip from Accra to Lagos is generally not so busy, except during Christmas. But even at that time of year, you can expect a smooth travel experience.
What To Pack
You will be on the road from Nigeria to Ghana for 9+ hours, so packing your luggage should be done meticulously.
The first trick is to pack as light as possible with a suitcase/bag that is compact, not bulky. Certain transporters weigh luggage and would charge extra for heavy bags. Also, consider you will be arriving at Accra in the later part of the day and you wouldn't want to be dragging a heavy bag around at that hour.
Take a carry-on bag that contains all your essentials. Make sure you pack a lot of snacks in this bag. The trip from Lagos to Accra is a long one and with very few stops. There will be long stretches of time where you may not see a city or be able to purchase any food. Be sure to make inquiries as to whether food will be served in your bus. This would help you properly plan ahead.
Accra is generally warm, so
avoid thick or layered clothes
. Ghanaian culture is not overly conservative, so no needs to worry about upsetting the culture with inappropriate clothes.
What To Eat
While it is advisable to you pack a few snacks for your journey, there will be a few stops on the way where you can purchase some food. Most travellers' favourite stop is at the Lagos-Cotonou (Benin Republic) border known as
Seme border.
At the
Seme
border, you will be required to get down from the bus and walk to the Cotonou side on foot. The border town of
Seme
is a fairly developed settlement, with a market, ready to provide goods and services for travellers. The
Seme
border is perhaps, the busiest border in Southwestern Nigeria; it is a great place for you to practice some French, buy some food and maybe grab a few souvenirs. The next major stop is the
Aflao border
that separates Ghana from Togo. This stop is obviously at the tail end of the journey, which means you should stock up as much as you can at the
Seme border.
The
Aflao border
is less of a hassle than the
Seme
border, it's a great preview to the calm demeanour of the Ghanaians you will be meeting at Accra.
There are also more English speakers here, so the communication barrier is lessened. At both borders, food is cheap and a wide array of foodstuff are available. They also provide currency changing services if you have the need for that.
Travel Tips
At the borders, there will be people trying to convince you to give them your passport, so they can help you get it stamped. Be careful never to hand your passport to anyone not wearing the appropriate uniform.
As an ECOWAS citizen, you're not required to cross the borders using your travel documents as you do not need a VISA.
Make sure to get direction from your bus driver about exactly what you are expected to do at the border crossing to avoid being taken advantage of.
You may be required to pay some money at the border, again, be sure to ask the driver about this.
Enjoy the long scenic ride from Lagos to Accra. You'll pass a lot of towns and settlements between Nigeria and Ghana, be sure to take it all in.
Travelers are also interested in the following...
God Is Good Motors (GIGM) is reputed to be the most technologically driven road transport company in Nigeria. The company has provided top class road transport services since 1998. The GIGM.com headquarters is located at Benin-City, Edo state and it operates from over 10 states with 29 terminals across the country.
Cotonou is the capital city of Benin and it is a city bustling with various business activities. It is a very open city that has a lot of facilities and amenities to make life comfortable. Nigerians travel to Cotonou for so many reasons, ranging from business dealings to vacation purposes and Cotonou has enough to back them up. One basic attraction for Nigerians is the constant electricity in Cotonou?which makes it a good place to set up a business. In addition to that; vacationing there is really fun.