Best Places to Eat Amala in Ibadan
Amala is a very common delicacy among the Yoruba ethnic group in Nigeria. It is often said that a trip to Ibadan is not complete without having a taste of Amala and Ewedu soup.
Amala could either be black or white. The black variety is usually known as "Amala dudu" while the white variety is referred to as "Amala funfun". Amala can be made from dried plantain, Cassava or Yam which is grounded then eaten with Ewedu or Abula soup. Most Nigerians who eat Amala loves it because of its lightweight morsel.
Below is a list of the best amala joints you will find in Ibadan compiled in no particular order:
1. Inastrait
This is one of the ancient Amala spots in Ibadan, it has been in existence since the 70s. Inastrait was founded by Ahaja Muslinat Akanke Tijani of blessed memory and since then it's one of the best amala joints in Ibadan cooking tasty meals managed by the late Alhaja children. The main menu is Amala and Ewedu.
Inastrait has 3 branches in the ancient city of Ibadan:
1. The first one is located at the cultural center road, Mokola hill, Ibadan.
2. Polytechnic Road, Ibadan.
3. Iwo Road near Ariksekola Central Mosque, Ibadan.
Phone number: 0803 397 8847
2. Ose-Olohun
This is one of the most popular Amala joints in Ibadan. It is usually called "Sky" because of its very close location to Skye Bank in Bodija. Ose-Oluhun is popular and mostly patronized among UI students and bankers. They are known for their delicious meals and the smallest size of meat goes for #50!.
Phone number: 0909 450 5462
3. Mama Ope
This is one of the corporate Amala joints in Ibadan located in Jenbonwo area of Mokola in Ibadan. Have you ever thought of a cooperate amala joint?, Mama Ope is one. Their waiters are always dressed corporate and are easily recognized in their lovely uniforms. Mama Ope restaurant has been in business for over 15 years. The restaurant has fancy decors with three accommodating sections: VIP lounge, The floor, and the main hall. Their food menu also includes ofada rice and peppered sauce.
Phone number: 0807 688 8562
4. Ola Mummy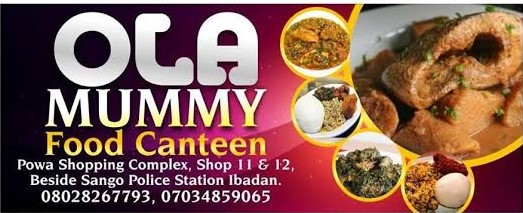 This is another good spot in Ibadan for tasty Amala and Ewedu soup or whatever combination you like. It is located at Ojurin side of Bodija, near an auto mechanic workshop. They sell affordable meals and have a high level of hospitality.
Phone numbers: 0805 466 8491, 08028267793, 07034859065.
5. Iya Adura
This is another affordable and popular joint in Ibadan located inside the social welfare compound in the state secretariate behind First Bank in Bodija. This joint is mostly filled with great personalities and its also a place for everyone because of their affordable and tasty meals.
6. Bush
It is one great spot for an excellent cooked amala and a variety of soups. It is the best joint for those who work or have anything to do at the Oyo State Secretariat in Ibadan for easy access.
7. Iya Meta
She has been in business for so long, known for her delicious amala and Gbegiri soup. Iya meta is located inside the popular Bodija Market, Farayola Layout.
Phone number: 0802 954 3326, 0703 364 4572
Diverse Soups for amala
Amala can be eaten with various soups:
Egusi soup
Ewedu soup
Okra soup
Efo riro
Ogbono soup
Gbegiri soup
Best time to have Amala
You can have Amala at any time of the day. Personally, I enjoy eating Amala in the morning paired with Ewedu and Gbegiri soup garnished with assorted meats.
People who viewed this also liked...
There are so many fun things to do in Ibadan. Click on the link above to find out the fun things you can engage yourself with while in the Largest city in Sub-sahara Africa.
Visiting Ibadan very soon? and you are looking for Chinese or Indian meals in Ibadan? Worry less, Zen restaurant is a one-stop for tasty and excellent Chinese meals in Ibadan. Click on the link above to read more about Zen restaurant.