Top Hotels in Calabar for the Perfect Valentine Getaway
Valentine?s Day is around the corner and love is in the air. The cupid that did not strike in January and the previous months has swung into action sending everyone into a world of fizzy; therefore people have started finding their soul mates.
On Valentine?s Day, people celebrate love making the single ones feel left out. If you are single and feel like this year?s valentine is going to be another depressing period for you, read this article for a way out.
As the usual practice in preparation for Valentine in Nigeria, everyone wants to do something special for 'the one'; an affectionate and compassionate feeling of togetherness is what defines the day. This is why we have compiled a list of top hotels in Calabar that would make this Valentine's day special and alluring for your loved one.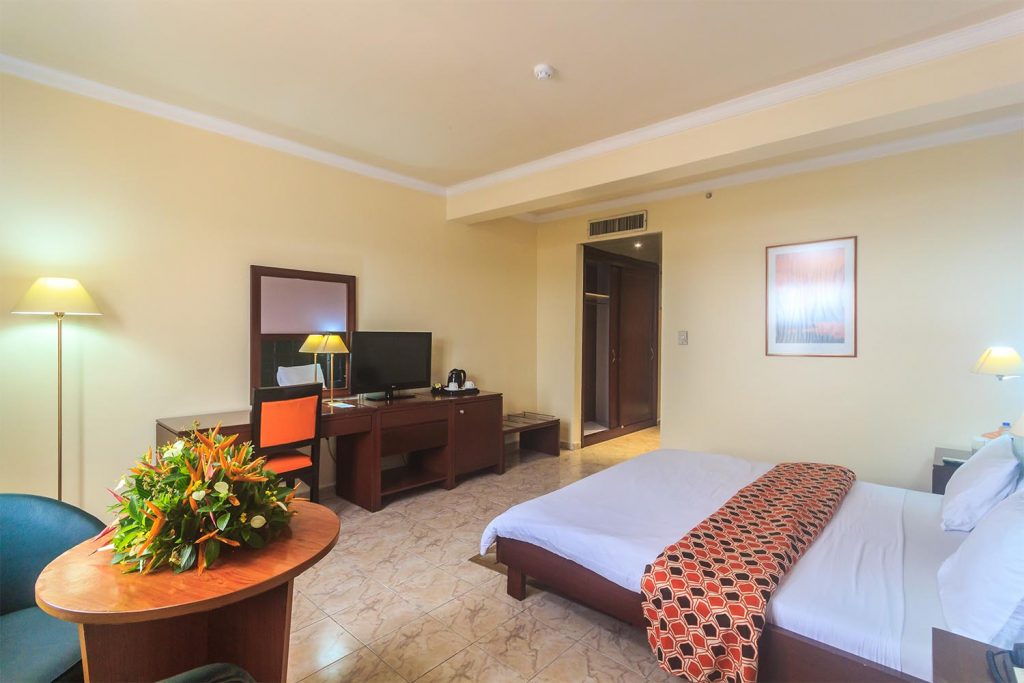 Transcorp is a fully equipped 4-Star Hotel located at 10, Murtala Mohammed Highway, Calabar. ?It is the biggest and most prestigious hotel in Calabar. The hotel is a 15-minute drive from the Margaret Ekpo International Airport. The hotel has about 146 luxurious rooms with each room being fully air-conditioned. The rooms also have separate living rooms with beautifully constructed bars.
Transcorp Hotel also possesses a swimming pool, a fitness center, and a tennis court. The average price per night for each room is ?26,000
Calabar Harbour Resort and Spa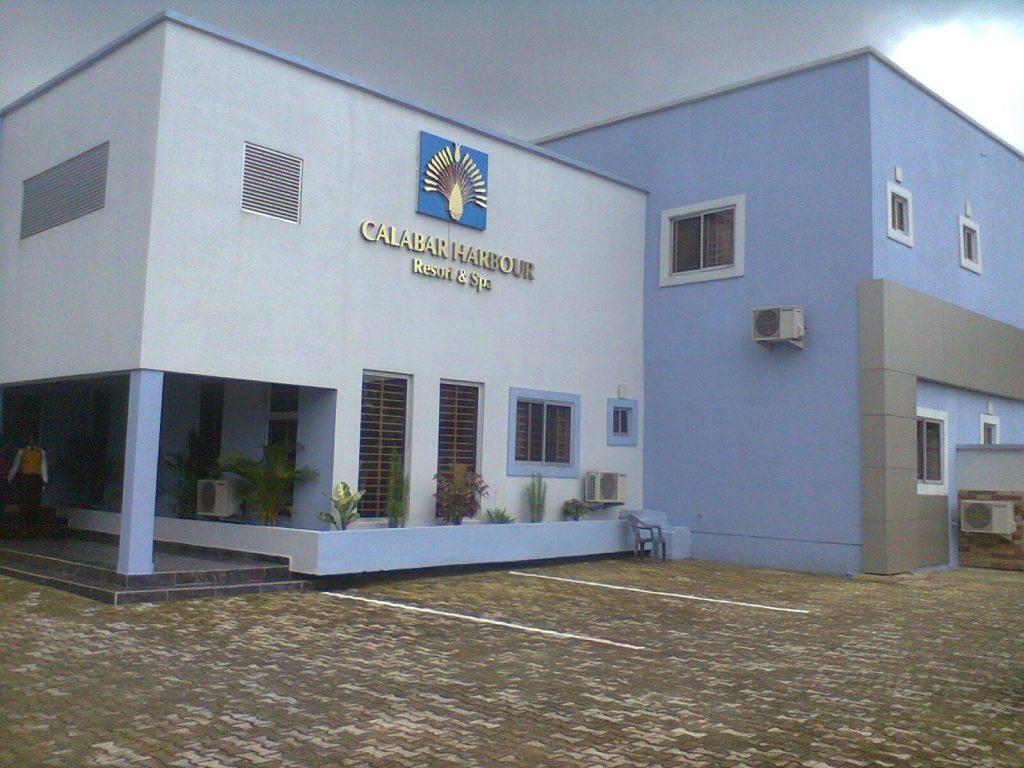 Located at 32, Asari Eso Layout, 540222, Calabar, Calabar Harbour Resort and Spa is one of the top hotel choices in Calabar. Established in 2014, the hotel is committed to exceeding the expectations of guests. Although there are only 13 rooms and 3 suites, they have all been designed to provide the utmost comfort and relaxation to guests. Each room and suite has luxurious furniture, Wi-Fi, TV and an anti-stress bed. Looking through the windows of the rooms, you could enjoy the breathtaking view of the landscape.
You could also cool off with your partner at the swimming pool and enjoy the tranquility serenading the hotel.
There are different packages for the rooms. The Platinum Suite costs ?80,000 per night, the Diamond Suite costs ?50,000 per night, the Studio Premium costs ?40,000 per night the Gold Room costs 35,000 per night, the Diamond Room costs ?30,000 per night and the Silver Room costs ?25,000 per night. Each room has queen size beds enough to occupy 2 adults. You could book your rooms online by visiting the hotel?s official website.
Xcape Hotels and Suites Limited
Xcape Hotels and Suites Limited is located at 4, Ika Ika Oua Street, 3rd Avenue S.H.E, Calabar which is about 5.4km from the Calabar Museum.
Guests are usually served English breakfast daily from 8 am to 10 am. All rooms are fitted with air conditioners, flat-panel TV and private bathrooms having deep soaking bathtubs.
There are 3 room types; the Deluxe Room costs ?13,908 per night, the Royal Room costs ?18,540 and the Suite costs ?25,497 per night. There is however no pool and free WiFi.
Tinapa Lakeside Hotel
Tinapa Lakeside Hotel is a premium hotel with class and luxury that is in close proximity with the Tinapa Free Trade Zone. Formerly known as Amber Tinapa, the hotel is located at 8 Miles Adiabo, Calabar Municipal, Ikot Omin, Calabar. There are about 242 rooms- 105 Standard Double Rooms, 75 Standard Twin Rooms, 27 Executive Rooms, 32 Suites and 3 Paraplegic Rooms that are cozy and extremely comfortable. All rooms are fully air-conditioned and have TVs.
Within the vicinity of the hotel, there are water slides, picnic areas, a parking space, a food court, and a wave pool. Guests are assured of a 24/7 independent power supply.
Tinapa Lakeside Hotel offers breathtaking viewing opportunities to guests as it is surrounded by beautiful architectural designs.
Hotel 45
Hotel 45 is located on 45th Street, Off Effanga Mkpa Street, State Housing Estate, Calabar. The hotel has different activities for different moods. You could enjoy the evening at the hotel?s rooftop cocktail bar or relax by the pool while listening to music and sipping a cocktail.
Hotel 45 also has amazing weekend promos starting from the Thank God Its Friday (TGIF) Karaoke Happy Hour from 6-9 pm every Friday where you enjoy 30% off all of the hotel?s signature drinks. Saturdays are tagged Ladies Saturdays from noon till midnight where Ladies get 1 free signature drink with any meal.
There are 4 room types: Executive, Deluxe, Business Suite and Penthouse. All rooms are fully air-conditioned and have Wi-Fi.
Visit hotels.ng to view the cost of spending a night at these hotels
Channel View Hotels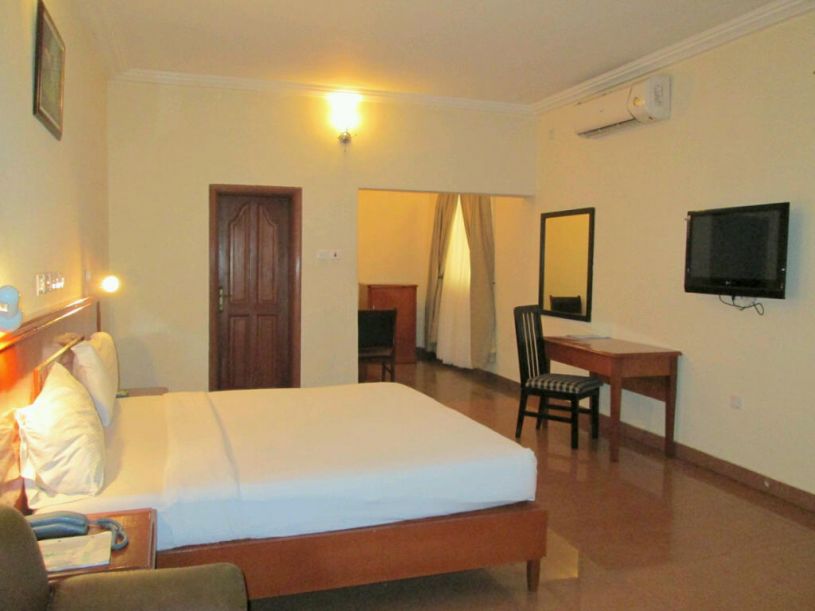 Channel View Hotels is a luxury hotel located at 27, MCC Road, Asari Eso, Calabar. It provides ultra-modern yet homely accommodation, therefore, making it the perfect destination for a perfect and comfortable stay. There are eight room types: Ministerial Suites, Executive Double, Executive Single, Royal Deluxe, Studio Room, Business Suites, Diplomatic Suite and a Presidential Suite. All can occupy 2 adults except the Executive Single. Each room in the hotel has an en suite bathroom, a flat-screen TV and a comfortable bed.
Channel View Hotels possesses a karaoke bar, night club, swimming pool, Wi-Fi service and ATM on site. It is a 15-minute drive from Margaret Ekpo International Airport, a 20-minute drive from Tinapa and 8 minutes drive to The Business Areas of Calabar Road.
Marian Hotels Limited
Marian Hotels Limited was established in 1980 and is one of the pioneers in the hospitality business in the south-south region of Nigeria. The hotel is located at 125 Old Ikang Road, Marian Road Extension, Calabar making it about a 10-minute drive from the Magaret Ekpo International Airport and about 20 minutes drive to the Calabar Free Trade Zone.
There are about 90 rooms in the hotel with 3 room types: The Standard Room, The Executive Double, and The Suite. Guests can be assured of 24/7 power supply and security.
Visit hotels.ng to view cheap hotels in Calabar