Terra Kulture - For All Lovers of Art, Food and a Good Time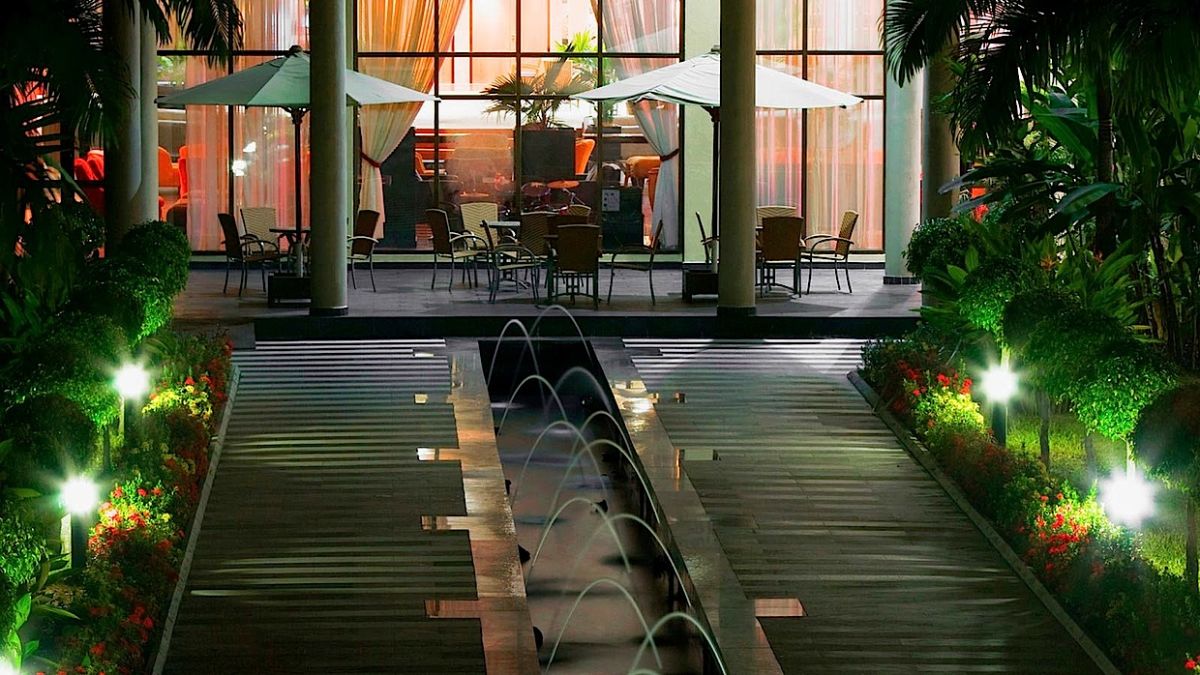 Location
:1376 Tiamiyu Savage St, Victoria Island, Lagos
Open Hours:
9:30 am - 10:00pm ( Mon - Thurs), 9:30 am - 12:00 am (Fri-Sat) 12:00pm - 12:00 am (Sun)
Contact number
: 0809 900 7744 The internationally acclaimed?art house, Terra Kulture is the home of contemporary visual and theatre arts in Nigeria. TK as it is fondly called stands as one of only 2 art auction houses in Nigeria, with a collection of over a thousand art pieces from across the country. The Terra Kulture building is home to a restaurant, a craft shop, a?library, a language school and theatre and its central feature;
the art gallery
. It is proud to have hosted readings by renowned Nigerian authors such as Wole Soyinka, Sefi Atta, Chimamanda Adichie and others for book readings.?Annual events at Terra Kulture includes an art auction and the Taruwa Festival of Performing arts (which is often held in January).
History of?Terra Kulture
The owner of the prestigious Terra Kulture is none other than Nigerian lawyer
Bolanle Austen-Peters
, who founded the establishment in?2003. In its 11 years of existence the art house has organized over 200 art exhibitions, 135 plays, 65 book readings and over 10000 individual adults and children, as well as school trips, have attended our language classes.

When is the Best Time to visit Terra Kulture?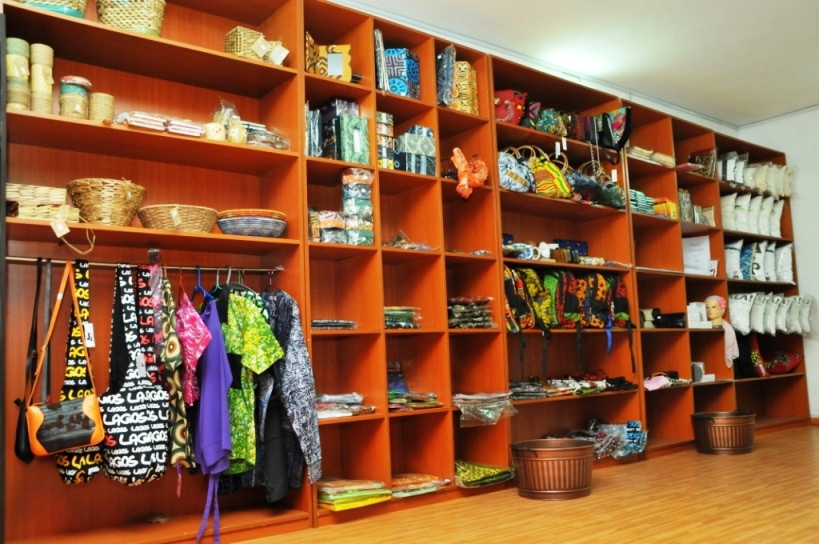 Sundays are for art exhibitions in Lagos. You?can pay a visit to Terra Kulture on a Sunday. That's when the cool kids do it. Sunday is also the day that a lot of art exhibits are opened, and you have the rare privilege of been one of the first to view the choicest arts and crafts. You may also choose to visit the art house on a Saturday as well, you'll be sure to meet other art lovers with whom you can share unique cultural experience and connect with.?
How to Get to?Terra Kulture
By Land (Road Transportation): The fastest way to Terrak Kulture from the Ikoyi axis is through Ahmadu Bello Way, which should take about 15 minutes. From Ahmadu Bello head south toward Bonny Camp Street, pass by Enterprise Bank. Drive on for 3 km then turn left at UBA Bank into Tiamiyu Savage Street.?Pass by Office Avenue Towers?is just ahead.
Things to do at?Terra Kulture
Exploring all at Terra Kulture can take you a whole day and it would be definitely worth your time. Here are a few things you can engage in:
1. Art Exhibitions at Terra Kulture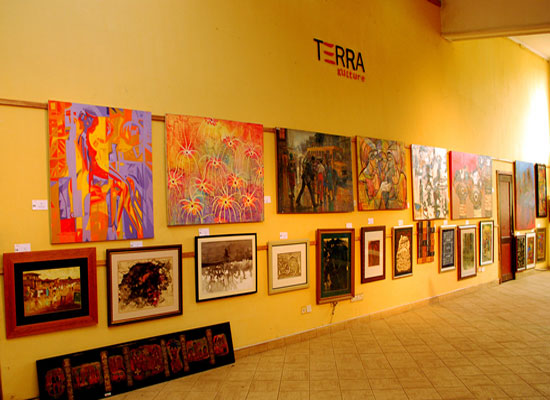 With numerous pieces showcasing some of the finest works of Nigerian artists, the Terra Kulture Art Gallery is a destination all on its own for any art enthusiast in Lagos. Since its establishment, it has housed no less than 30 individual exhibitions. The art gallery features a remarkable collection of paintings, photographs, and sculptures, including the works of some of Nigeria?s most revered names.
2. Stage Plays at Terra Kulture
Over the years, Terra Kulture has developed a reputation as the nerve center for Nigerian theatre, as it frequently hosts stage productions every Sunday throughout the year, both by established and developing names. If you would like to take in a show or to get immersed in the wonders of a musical, pay a visit to the art house this Sunday.
3. Have a sumptuous meal at the?Terra Kulture Restaurant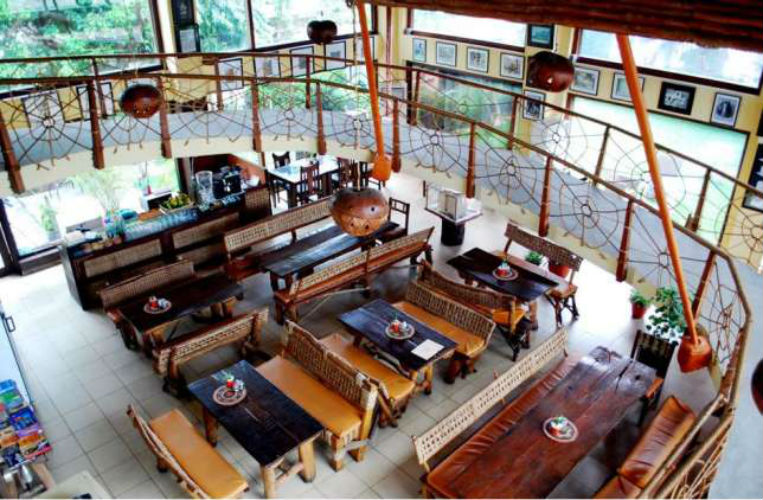 All Terra Kulture celebrates is Nigerian culture, so it's expected that the restaurant would only offer the best of the best Nigerian meals. The restaurant is decorated with authentic art pieces that you can appreciate while you chow down on a wonderful helping of
efo riro
or
nkwobi
.
5. Get Acquainted with the Books at the TK Bookshop
For lovers of African literature, the Terra Bookstore is equipped with all you can desire. You will feel like pitching a tent and living there. For art, culture, and book lovers, Terra Kulture is definitely the go-to place. It's never a dull moment, especially when you are around people of like minds. To keep up with the latest events at TK, visit their official website
here.

People Who Like Terra Kulture also like...
Lagos as a city has a growing art scene. There are various places you can go to enjoy a good art collection or a thought-provoking stage play. After you've visited T.K, you should try some these places...
Address: Iganmu, Surulere, Lagos No one does stage play in Lagos like the National Theatre. This theatre is the primary location for performing arts in Nigeria. Since its establishment in 1971, the theatre has sustained its lead in the art world.
Address: Lekki Phase 1, Lagos Reputable the largest collection displayed of artworks in West Africa. ?The 5-storey building houses a collection of about 8,000 diverse artworks from various Nigerian artists.
Address:?7 Gbemisola Street, Allen, Ikeja This museum is the home of Fela Anukolapo Kuti which was transformed into a historic site to celebrate his legacy and his contributions to the art of Nigeria today. Here you will find bits of his history including his favorite musical instruments on display.