Enjoy a Fun and Relaxing Day at Tarkwa Bay Beach
Location: Atlas Clove (Tarkwa Bay), Apapa, Lagos Gate fee:?N200 (negotiable)
Tarkwa Bay is sheltered beach located near the Lagos Harbour. It's a popular with swimmers and water-sports enthusiasts, also home to a welcoming resident community. You'll love this beautiful island that far removed from the hustle and bustle of Lagos. Tarkwa Bay Beach, unlike most public beaches in Lagos, isn't often noisy or overcrowded. This makes it a great place for some alone time with your significant other or perhaps a fun day out with your friends. While cruising to the island on a boat, you'll enjoy a magnificent view of some cool places in Lagos like the?
Radisson Blu hotel
, the?Lagos Yacht Club, and the Lagos harbor.
How to Get to Tarkwa Bay
Tarkwa Bay is an island, so it is only accessible by water. There are several parts of Lagos Island where you can board a ferry or high-speed boat to the bay. The most popular places to get a boat to Tarkwa Bay are Marina, Mekwe Jetty and Tarzan Marine ( Victoria Island).
From Mekwe Jetty near Bonny Camp on Lagos Island: You can board a speedboat. The journey should take 15 minutes.
From Tarzan Marine Services beside Lagos Oriental Hotel: You can board a speedboat for the entire journey (to and fro). The cost is N2000. ?The ride should take 25 minutes.
From Marina (CMS): You can board a speedboat at N1500 per person. The ride should last for 20 minutes.
When is the Best Time to Visit Tarkwa Bay Beach?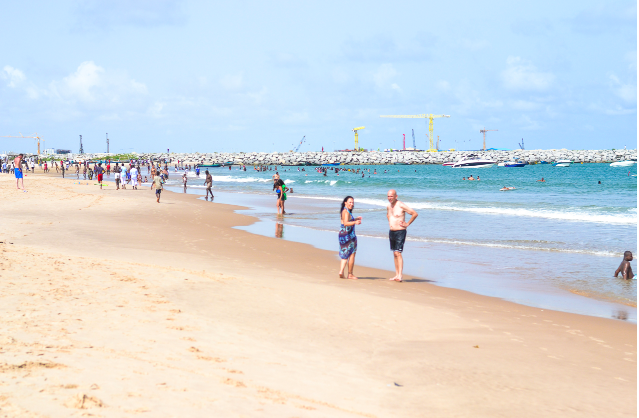 If you are looking for a quiet romantic time, you should visit Tarkwa Bay Beach on a weekday. Though Tarkwa Bay Beach is a small and lesser visited beach, many fun seekers visit it during the weekends, public holidays and festive season. Another thing you should consider is the time of the year. It's best t avoid visiting the bay during the rainy season (April to September). Remember you can only get to and from Tarkwa Bay by water and rain has the ability to make the ocean tempestuous. You wouldn't want to put yourself in harm's way. Besides, rain and beach relaxation isn't actually a good combination. While planning your visit to Tarkwa Bay Beach, you should know that the last speedboat taking passengers back to Marina (CMS) leaves the bay at 6:00 pm. Unless you have plans to stay over on the island, you should set out for the beach early enough to give yourself time to enjoy the fun that the beach has to offer.
What to Wear to?Tarkwa Bay Beach
Tarkwa Bay Beach is one of the smaller, more private beaches. You can honestly wear whatever you like. Though the "bikini" culture isn't very common in Lagos generally, people who have visited Tarkwa Bay have attested to the fact that it is a place of freedom. If you want to flaunt your "summer body" then, by all means, go ahead.
There's a changing booth available at the beach. Making use of it costs N50.
Things to do at Tarkwa Bay Beach
1. Relax
Tarkwa Bay Beach is one of the best places to go when you need an escape from the loudness of Lagos. Unlike most other beaches, there aren't that many shacks playing music from different directions.?You can simply enjoy a chill day, play around in the water, lay around in the sand and enjoy a nice time. Just rent a tent and enjoy the calming sights and sounds of the ocean waves.
2. Eat and Drink
At Tarkwa Bay Beach, there are no food stalls around, so you will need to pack your own lunch and drinks. Asides from that constraint, there's no better place in Lagos to enjoy some fresh coconut juice straight from the husk. There are also local gin stores around where you can indulge and pick your poison.
3. Fun Activities
At the Bay, you can swim, surf, enjoy a game of beach volleyball or enjoy numerous other beach games with your friends and family.

How Much Will a Visit to Tarkwa Bay Cost?
Your fun day at Tarkwa Bay can cost as little as N1, 000 or as much as N10, 000, depending on how you wish to spend your time. Below is a list of some of the items at Tarkwa Bay Beach and how much they cost.
Unofficial entry fee - N200
Boat fee (to and fro) - ?ranges from N600 - N2000
Tents - N300
Chair - N300
Table - N100
Changing room - N50
Water (sachet) - N10
Beer - N350
Grilled fish - from N1000
Coconut juice - from N200
Beach Volley Ball court - N1000
*Exact prices may be gotten at the beach.?
Other Beaches You Might Also Like...
There are several
other beaches in the coastal city of Lagos
you might also enjoy.
Eleko Beach is a private beach near Ikoyi, Lagos. It's quiet and serene atmosphere is perfect for a romantic rendezvous. It is especially great because of its picturesque huts and all the wonderful water sport -like kayaking- that you can enjoy there.
Ikaare Island, near Victoria Island, Lagos
Contact number:
01-8168174, 08100000467 Kamp Ikaare Beach Resort is the perfect holiday spot if you are looking for some solitude, a romantic getaway, or a place for a family retreat. The resort, situated in a coastal village called Ikaare, is the best-kept secret in Lagos.