Nike Art Gallery: An Art Lover?s Guide
Address: Nike Art Gallery, No. 2, Elegushi Road, 3rd Roundabout, Epe Expressway, Ikate
Cross-Road, Lekki Phase 1 Peninsula
Open Hours: 10 AM ? 6 PM (Daily)
Gate Fee: ?None
Tel:??+234 80 340 96656, +234 80 330 36969
A magnificent five-storey building coated in spotless white, standing high and proud in its environs.?
Nike?s Art Gallery
tells its story from the outside. The fence of the compound is adorned with rare marbles, while its walls are covered in different artistic inscriptions and drawings. You immediately feel a deep sense of awe once you walk through its colourfully tattooed black gates. This historical abode ranks high in the list of bedazzling Lagos destinations. From the inner courtyard of the gallery where you?ll find the stone sculptures, tie-dye workshop and hanging craftworks, to the wide variety of art displayed inside the magnificent structure, you can rest assured that your love for Nigerian art will go through the roof. With arts and crafts dating back centuries, Nike?s art gallery poses as one of the best preservation venues for Nigeria?s ancient traditional values and symbols. Whether you are an enthusiast of African arts, a specialist in the arts, or merely interested in a brief immersion in a new culture. Nike offers the opportunity to see Nigeria with fresh eyes.
History of Nike Art Gallery
The centre was established in September 2009, by Chief (Mrs.) Oyenike Monica Okundaye aka ?Nike? solely from her earnings as an artist and without governmental assistance. Nike opened this centre with 20 young girls who were marching the streets in Osogbo aimlessly and who had no hopes for the future. She is also the Owner/Curator of the Nike Art Galleries at Osogbo, Ogidi-Ijumu and Abuja. Nike?s unique style in textile design and painting garnered international recognition bringing her a lot of fame and fortune. Therefore, she has been able to economically and socially empower many rural women by setting up cottage weaving workshops/ centres for women at Abuja, Osogbo and Ogidi-Ijumu, thereby giving voices to them in their various communities. So far, over 3000 young Nigerians have been trained in the centre and who are now earning their decent livings through art. Many African countries now send their students to study textile art at the centre.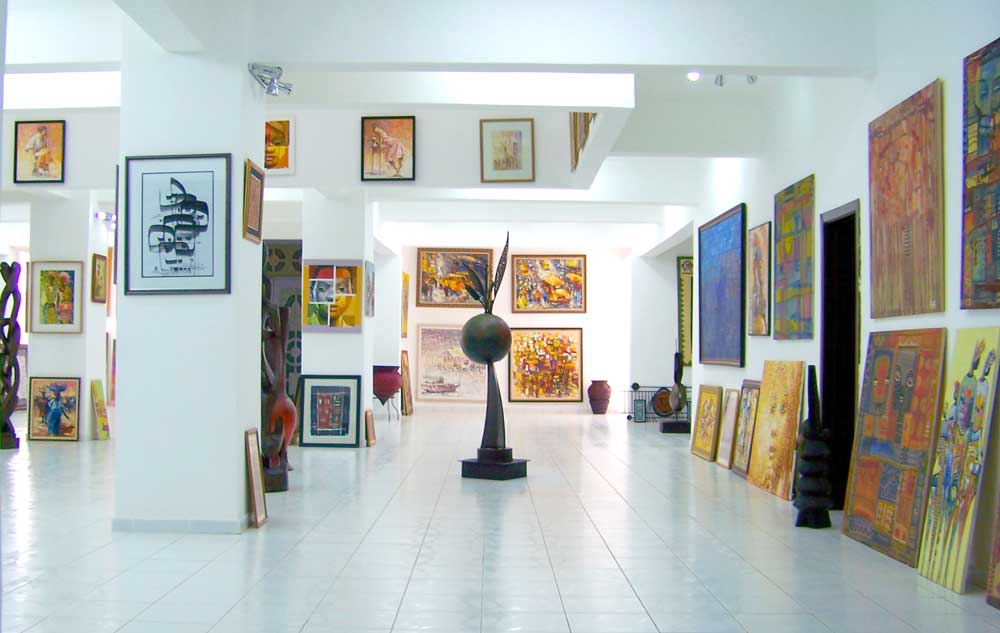 Best Time to Visit Nike Art Gallery
? If you are an art curator or feel like you certainly won?t be able to explore to your satisfaction in one day, the art gallery has comfortable guest houses attached to her home and art centres. If you?re one to enjoy art with little or no disturbance, then it's best to avoid public holidays and festive seasons, due to the large influx of visitors at this times. The ?big rains? come from late April through early July, and the heavy downpours make movement difficult. July through September are the best months for a visit when cool breezes and occasional rains drop the temperatures throughout the country ? However, if you are planning a day?s visit, it?s wise to arrive in the morning in order to maximize the daylight effect. Traffic in the gallery normally is between 12 ? 3 pm. The evening scenery can also serve up a satisfying experience.

How to Get to Nike Art Gallery
The gallery is situated on the Lagos Island. Arriving Lagos by air, there will be cabs at the International airport to take you to the location on the island. However, if you plan on going by bus; from the airport or from any spot in the city, enter a bus going to obalende. At obalende, you need to enter another bus going towards lekki and alight at the 3rd roundabout. The building sits at no.2 elegushi road.
Things to do at Nike Art Gallery
? You can explore the different types of art crafts and collections which include: drawings, paintings, moulded statues, hand-woven materials and so on. ? The gallery provides an avenue for Nigerians to remember and learn more about their old traditional values and also gives foreigners the opportunity to discover amazing things about African traditions. ? Some major artworks to look out for including Adire, batik, indigo, beadwork, painting, carving, embroidery, metalwork, weaving and drumming. ? The gallery has attracted both local and international audience. Some of which include: The Ooni of Ife, Richard Quest of CNN, The Italian ambassador to Nigeria, The French ambassador to Nigeria, etc. ? Whether it?s a family outing, class excursion, couple?s vacation or solo outing, the gallery has room for everyone. ? It also provides the perfect venue for photoshoot sessions and art videos. ? In the event that you feel hungry, the facility has rich restaurants full of African dishes, hence, giving you the chance to also explore dope Nigerian dishes.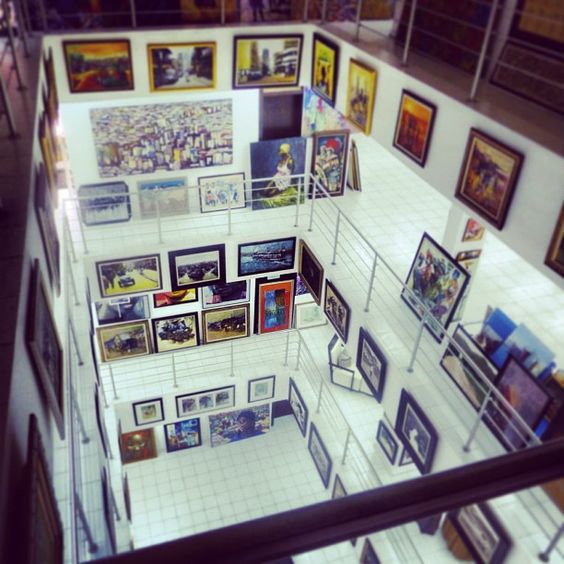 How Much Will Your Visit to Nike Art Gallery cost?
There is no gate fee, although, depending on the length of your visit, the fees for a tour guide and for lodging in the guest houses might vary. However, you can get more information by calling the phone numbers at the top of this article.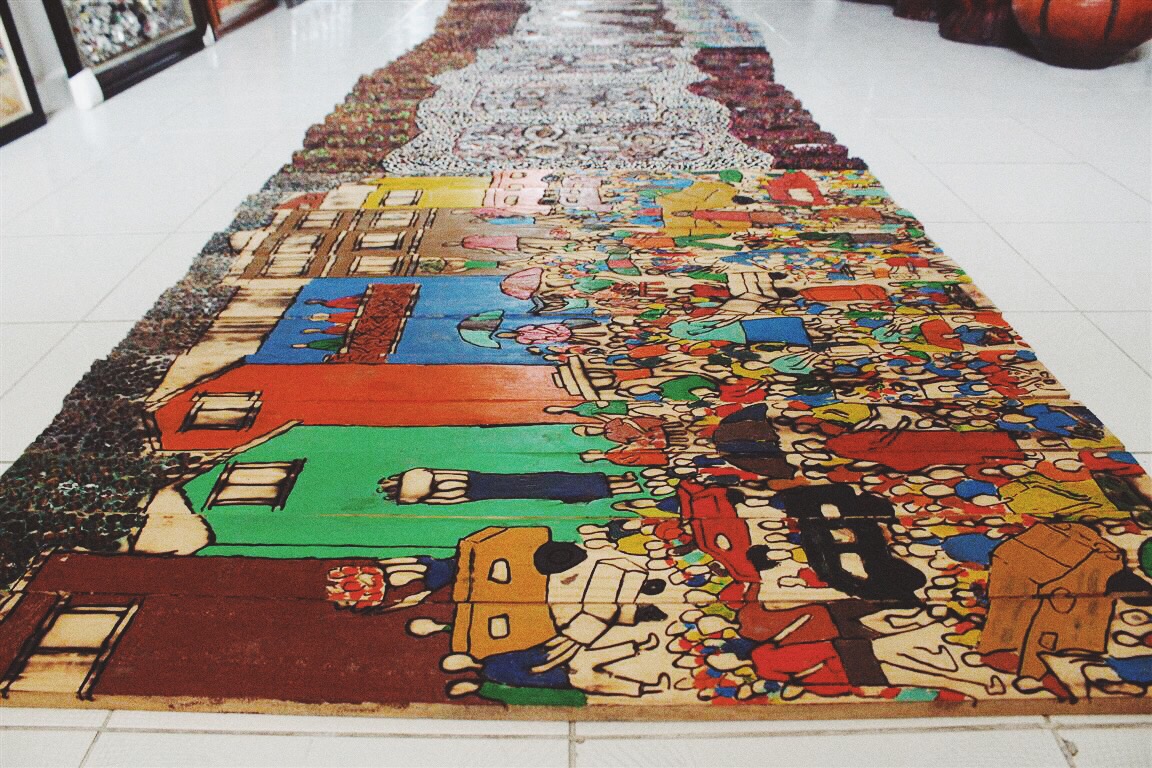 Fun Facts about Nike Art Gallery
? Occasionally, dance troops come to the gallery to perform and thrill visitors. ? Depending on what aspect of art you fancy, there is an opportunity for you to try your hands out in making something! ? You can discover hidden Nigerian treasures on your own or tour with a guide.
Other Interesting Places to Visit Near Nike Art Gallery
Kalakuta Museum
Address: 7 Gbemisola St, Allen, Ikeja
Open hours: 10am ? 6pm Tour the Kalakuta Museum?highlighting the life of legendary Afrobeat musician Fela Kuti?in Lagos with a private guide. Opened in 2012, the property served as Kuti's residence from the 1970s until his 1997 death. Kuti is buried in a mausoleum on the grounds. See his preserved bedroom as well as other artifacts and exhibits pertaining to his life throughout the space. There's also an onsite gift shop and a rooftop bar where you can savor a cocktail (own expense) while reflecting on Kuti's many musical contributions.
Address: 1376 Tiamiyu Savage St, Victoria Island, Lagos
Open hours: 9:30 am ? 10:00pm ( Mon ? Thurs), 9:30 am ? 12:00 am (Fri-Sat) 12:00pm ? 12:00 am (Sun) The internationally acclaimed art house, Terra Kulture is the home of contemporary visual and theatre arts in Nigeria. It stands as one of only 2 art auction houses in Nigeria. With a collection of over a thousand art pieces from across the country. The Terra Kulture building is home to a restaurant, a craft shop, a library, a language school and theatre and its central feature; the art gallery. It is proud to have hosted readings by renowned Nigerian authors such as Wole Soyinka, Sefi Atta, Chimamanda Adichie and others for book readings.