Inagbe Grand Resorts and Leisure: Home Away From Home
?Address:?
13, Abimbola Okunlaja Close, off Oladimeji Alao, Lekki Phase 1, Lagos.
Phone:?
0817 088 5261
Pick up Point:
?Lagos State Ragatta Jetty, Opposite Stat Oil Company, Along Queens Drive, Ikoyi.?Corporate Head
Email:?
[email protected]
Thinking of the perfect getaway adventure, away from the shackles of reality? Inagbe Resorts presents you with a haven of pure charm and tranquillity. Strategically situated on an island detached from the Lagos hustle, this beautiful landmark gives you more than just sand, sun and sea. With a full storehouse of fun activities, lively entertainment and genuine hospitality,?
Inagbe Grand Resort
s and Leisure offers you so much more. From the tastefully furnished rooms to the view of the lagoon from the ?floating bar?, this stunning resort captures the true essence of nature, culture and tradition.

Owned by the Ooni of Ife, the resort sits across from Snake Island and occupies over 3 million square metres of land within a 100 kilometre stretch along the Atlantic Ocean. Inagbe has steadily risen to become one of the top tourist destinations in Lagos, attracting people from far and near.
?
Best Time to Visit??Inagbe Grand Resorts?
The summer break presents a good opportunity to visit the resort with friends, family or a loved one and enjoy the beach and boat rides.
You can plan to spend a couple of days in the resort?s comfortable accommodation or you could return back to the city by nighttime.

How to Get to??Inagbe Grand Resorts?
Inagbe grand resort is a hidden paradise located on Inagbe Island, which is about a 15 minutes boat ride from Victoria Island. From the Regatta Jetty on Queens Drive (now Oyinkan Abayomi Drive) in Ikoyi area of Lagos, take a charter boat and enjoy the scenery on your way there.
Things to do at??Inagbe Grand Resorts?
Enjoy the sumptuous food and soothing drinks in the ?floating bar?
Take a ride on the jetty and kayaks, or drive around on the beach with the quad bikes.
The resort presents a very inviting environment for shooting music videos and movies.
Take your children to play at the children?s park available on the resort
Hold your events and conferences in the spacious halls and hold your parties indoor or outdoor in the spacious halls.
Take a tour of the jungle.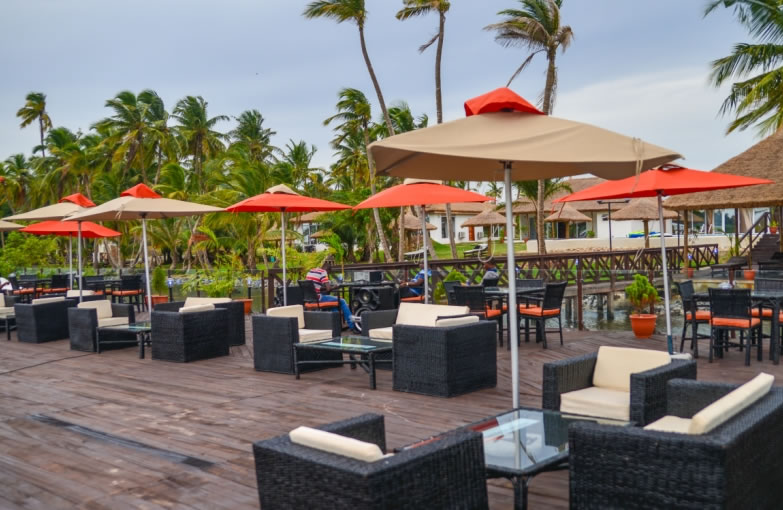 How Much Will Your Visit to Inagbe Grand Resorts Cost?
The prices of the different utilities at the resort are dynamic and subject to change. However, below is a prepared list of the prices of their rooms and services to help you have an idea of how much you might need. [table id=12 /]
Fun Facts about??Inagbe Grand Resorts
There is a standard spa where you can get a massage.
There is a reservation for boat charter if you would like to surf the ocean.
Inagbe resort has a golf range where you can catch a game or two.
There is an infinity swimming pool with a thrilling view of the ocean.
There is free access to WIFI anywhere on the resort grounds.

Other Interesting Places to Visit Near Inagbe Grand Resorts...
There are a couple of other exciting places you can visit in Lagos.
Address:?

Address: Iworo Road, Badagry, Lagos

Gate Fee: N500
Located just outside the hustle and bustle of Lagos, Whispering Palms resort is the ideal place for lovers to finally get that alone time they?ve always wanted. It is located close to the seaside, with palm trees swaying to the music of nature.?
Contact number: ?01-8168174, 08100000467 Open hours: 24 Hours
Kamp Ikare Beach Resort is the perfect holiday spot. If you are looking for some solitude, a romantic getaway, or a place for a family retreat, this location with its rustic beauty with modern touches is perfect for you. The resort is situated in a coastal village called Ikaare, which is?accessible only by boat.