Ogbomoso City Guide
Ogbomosho is a city in Oyo State, South-Western, Nigeria. The population was approximately 645,000 in 2006 census. ?It is bordered to the north by Ilorin (Kwara State) and to the South by Oyo town (Oyo State). According to history Ogunlola, an expert archer, and brave hunter, alongside his wife, Esuu, were the earliest settlers of the city now called Ogbomoso. Ogbomoso, because of her strategic location, quickly grew from a village status to a medium size town. Her people were also renown warriors.The influx of people into Ogbomoso during the period of the Fulani wars of the 19th century enhanced the size and strength of the town.

The majority of the people residing in Ogbomosho are the Yoruba ethnic group. Ogbomsoo has six Royal Fathers. Ogbomoso witnesses the dry season, which starts from November and ends in March while the rainy season lasts from April to October The people in Ogbomosho are notable for agriculture; Yam, Cassava, Maize, and Tobacco are some of the notable agricultural products of the region. The main street in Ogbomosho is the Oyo-Ilorin road. One of the prominent landmarks is the central mosque, which towers over the traditionally walled compounds of private houses. Ogbomosho has other mosques, several churches and is the headquarters of the American Baptist Church of Nigeria and its theological seminary.
How to Get to Ogbomosho
When traveling to Ogbomosho, you can either use road transport or air transport. Ilorin Airport is the closest airport to Ogbomosho. This airport is approximately 42 miles from Ogbomosho. When you alight from the plane, there are buses and taxis ready to transport you to Ogbomoso from the Ilorin airport. In the event that you are traveling by Road, you should know that Ogbomosho is accessible by road from any part of the country. Although, from the East, South-South, and North, you may not readily find a direct bus to Ogbomoso. Whatever the case, ?whichever bus you enter, highlight at Ibadan, from where you will surely find a taxi or bus going to Ogbomoso.
Getting Around Ogbomosho
The major means of transportation in Ogbomosho are motorcycles, taxis, and buses. The taxis and buses are usually cheaper than the motorcycles, depending on the place you are going. People usually take motorcycles when the buses are not likely to get to their exact location. Ogbomoso also has car hire services with companies like Avis, Europcar, Sixt etc.
Things To Do In Ogbomoso
There are a couple of activities you can engage in, while in Ogbomoso. Pay a visit to the palace, as it would afford you the opportunity of seeing the tortoise. As of last year, it would have lived for over 300 years. I?m sure it will be a lot of fun seeing a creature that is probably the oldest living thing on earth. Attending the Egungun festival is another activity to engage in Ogbomoso. Don?t worry, the masquerades are not violent and this is the great thing about the masquerade. In the event that you are a religious person, do not feel left out. Pay a visit to either the Baptist Seminary or the Central Mosque. Hungry? No need to worry. Ogbomosho has a host of restaurants, where you can find both local and intercontinental dishes. I will advise that you try out their local dishes. You will not regret that you did.
Free Things To Do In Ogbomoso
Visitors to Ogbomoso are free to go the palace to see the 300-year-old tortoise. Visitors can also take a walk around the University environment. It?s totally free.
How To Spend 48 Hours in Ogbomoso
Every visitor wants to enjoy their stay to the maximum level but not everyone has the all the time in the world, to spend in the places that they love. In the event that you fall into the group of people who have a limited time, let?s say 48 hours only, to spend in Ogbomoso, here is a guide on how to maximize your short time there. There are interesting places you need to visit within your short time in Ogbomoso, which include the Baptist Seminary. It is one of the oldest institutions of higher learning in Nigeria and has been a top training school for preachers, since the 20th century. Ogbomosho has a variety of locally prepared dishes like Amala and Gbegiri, Akara Egbe (Dried Akara). The Akara is best eaten in the morning though. ?There are other interesting restaurants like Mr Biggs, where you can get intercontinental dishes. Visit the central the central mosque in Ogbomoso. It is located at Ojo-Oba. You don?t have to be a Muslim to visit the mosque. Anyone who appreciates the beauty and magnificent designs would be wowed by the stunning architectural piece of the mosque. This should take you a whole day. On your second and last day, after you have attended the needs of your stomach and you are armed with your HD camera, pay a visit to the visit to the palace, in order to see someone who has been on this earth longer than you have, the Tortoise. The Tortoise is said to have lived, aided by its magical powers. Your visit would be incomplete without seeing the tortoise. End your day by paying a visit to White Nights Enterprises, a liquor bar. They offer great brands of wine as well as great hospitality.
Where to Shop in Ogbomoso
Ogbomoso has several places that would attend to your shopping needs, ranging from shopping malls to open markets.
Lautech Mall
It is located at Lautech, Ogbomoso, Oyo State. It is a shopping mall that can cater for almost anything you will need to buy in Ogbomoso. Things sold in the mall include clothing, electronics, computer accessories, shoes, bags, wrist watches, food items etc. It is open throughout the day.
Folaks Store
Located at 86, Oyo-Ilorin Road, Olopemarun, Ogbomoso, It is a one-stop store for quality products. It deals mostly in bags, shoes, wrist watches etc. It also offers excellent delivery services.
Tias Chops
It is located at Lautech, Ogbomoso, Oyo State. It is a grocery store. It sells all kinds small chops and grilled meat. You need to taste their grilled meat. You would not regret that you did.
Places To Eat in Ogbomosho
Lagos Kitchen
It is located behind the G71 filling station, under g, Ogbomoso. It offers great African and local delicacies. It is open between 9 am and 8:30 pm.
Masifa
It is located at Baale Masifa Street, Ogbomosho. It is a Mexican restaurant. Thus, it offers intercontinental dishes.
Mr Biggs
It is one of the biggest restaurants in Ogbomoso. It offers intercontinental dishes as well as excellent pastries. It is located at Tara Road, Ogbomosho North, Ogbomosho. It opens between 8 am and 10 pm
Mercury Kitchen and Bar Alata
Owned by Mercury City & Bar Alata City Hotel, it is one of the high-end restaurants located close to LAUTECH. It has a restaurant and a bar. It offers African delicacies and drinks, which include beer and spirits.

Nightlife in Ogbomosho
Ogbomosho does not have the typical nightlife you would get in places like Lagos, Ibadan etc. However, there are a couple of nightclubs and lounges in Ogbomosho to make your night interesting. Visit clubs like Elegance Club, The Pathfinder Club, White Nights Enterprise etc. to put some real fun into your night.
Places Of Interest in Ogbomosho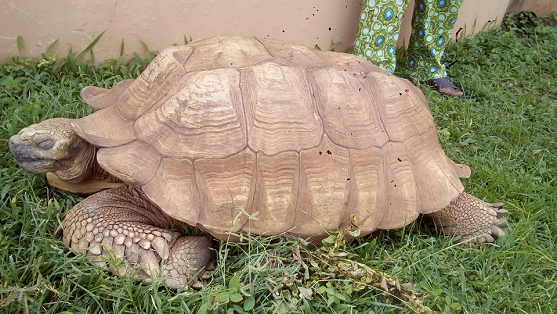 Ogbomoso Tortoise
Visiting the palace to see the great Ogbomoso tortoise is a great delight. The tortoise is called Alagba. It is a giant male land tortoise, that is believed to have lived for 330 years. It is generally called the ?elderly one? in the palace. It is regarded as a sacrilege in Ogbomoso, to call Alagba a mere tortoise. It is regarded as the oldest animal in the world. Locals say Alaba was brought to the palace about three centuries ago, by Soun Ikumoyede. It is said that the animal weighs over a 100kg and it eats the food of three to four people each day as well as finishes half?a bucket of water, which it takes once in three months. Its meals are prepared along with the people?s food in the palace. The animal has attracted lots of tourists from all over the world, with some of them wishing to carry the tortoise with them.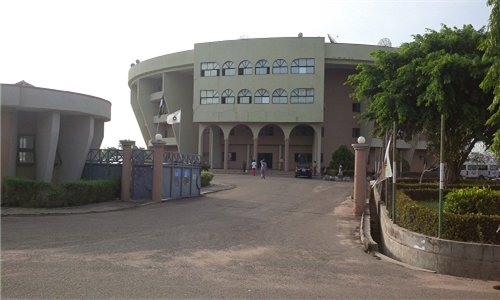 This University popularly called LAUTECH was named from the former premier of old Western Nigeria, Samuel Ladoke Akintola. It was formed on April 23, 1990. It was named the best state university in 2003 and 2004. Lautech is a degree awarding institution with a focus on Engineering, Technology, Science, Medicine. The university enrolls 25,000 students and employs more than 3,000 people.
Baptist Seminary
This institution was started by an American missionary, Charles Edwin Smith. He wanted to help train preachers and thus created a class for them. In 1948, the Seminary was officially affiliated to the Southern Baptist Theological Seminary of Louisville, United States of America.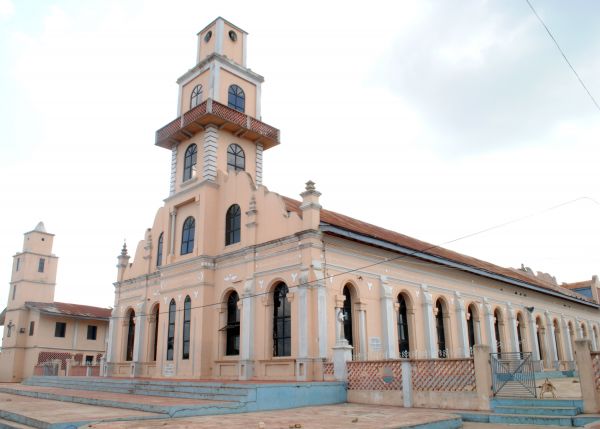 Central Mosque
The central mosque Ogbomoso is a famous landmark in Ogbomoso town of Oyo State. The Central Mosque towers above the traditionally walled compounds of private houses and the parts of the old wall that remains.The architectural beauty of the old central mosque is amazing.
Staying in Ogbomosho
Ogbomosho has a lot of options when it comes to accommodation. Hotels here are generally budget friendly.
It specializes in Stylish hotels, Comfortable Rooms, Affordable Rates and Exceptional Services. It is a great accommodation place for travellers, who want great hospitality and service at an affordable rate. Treasure Palace is designed with contemporary designs and extraordinary service. Prices per room in this hotel include Standard Room (5,000), Deluxe Room (7,000), Executive Room (8,000). All prices are in naira. It is located at Temidire Atoyebi Area, Before Ayegun College, Ogbomoso, Oyo State, Nigeria.
Located at 2, Adedoja Egunbiyi Street, Off Ayoka Road, Behind Ola-Oluwa Baptist Church, Randa, Ogbomosho. The hotel is a comfortable place to stay. The cost of rooms there, per night, are as follows: Standard Room (6,000), Deluxe (8,000), Junior Suite (15,000), Presidential Suite (25,000). All prices are in Naira.
It is an affordable hotel located at Wetland Street Off Inuofebi, Yoaro Area, Lautech, Ogbomoso. It is a great accommodation for visitors and tourists alike. Prices of rooms in this hotel include Double Room (6,350), Executive Room (9200).
It is located along Ogbomosho-Ilorin Road, Beside Coca-Cola. The prices of the rooms there, per night, are as follows Standard room (7,000), Imperial (8,000), Luxury (10,000) and Junior Suite (15, 000). All prices are in Naira.
It is located at 7-24 Chapel close off Lautech under G road. Prices of rooms in this hotel, per night, are as follows: Standard room (4,500), Junior Suite (9,000), Presidential Suite (18,000)

Conclusion
Ogbomoso is fast developing as a major commercial zone in Oyo State, Nigeria. The culture and really old buildings, as well as institutions, are a great sight to see. It is an interesting place to visit, especially with the oldest person on earth living there. Make it a point of duty to pay a visit to Ogbomoso.
People who like this city also Like...
The capital of Osun State is one of Nigeria's artistic and cultural centers. Cities close to Osogbo include Ikire, Ife, Ilorin, Ibadan, Ado Ekiti, Lagos etc.?Osogbo city is the trade center for tourists and traders as it has a rich farming period with food and cash crops like Yam, Cassava, Corn, Cotton, e.t.c.
It is the capital city of Oyo and the largest city in Nigeria. It has grown into an impressive and sprawling urban centre. It has several tourists attractions like the Ibadan Zoo, National Museum, Cocoa House etc. We've compiled a traveler's guide to the ancient city so that you have the best of your stay there.