Free Things To Do In Osogbo City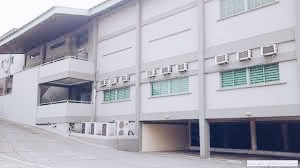 Osogbo, the capital of Osun State, is generally regarded as a cultural hub in Yorubaland, as a result of its high collection of historical and cultural artifacts. Osogbo occupies a prominent position in Yoruba history and civilization, as it is the first city that comes to mind when talking about preservation of Yoruba culture, festivals, and tradition. This city is home to the revered Osun-River, host of the renowned Osun-Osogbo festival.

Osogbo is the economic and administrative hub of Osun State and it is also an emerging cosmopolitan city. In addition to the other attractions in Osogbo City, its residents are peace-loving and hospital, which forms part of the reason why Osogbo is a good travel destination for tourists. Although a greater number of its residents are Muslims, a sizeable number of the other religious members are simply Christians and Traditional worshippers. ?Alongside the State Government, Osogbo City has a spiritual and traditional head, Ataoja of Osogbo, whose palace is a hub of activities. Osogbo City is a cool and serene place for visitors and tourists to relax. Osogbo City, the home of Arts, Festivals and Culture has several attractive places you can visit and things you can do. These places include; Suzanne Wenger House and Centre, Nike Centre for Art and Culture, Sacred Grove of Osun, Osogbo Metal Works, Museum of Arts, Osun Cultural Festival, Nelson Mandela Freedom Park, Ataoja Royal Palace Okonfo Rao Kawawa and African Heritage Gallery. Osogbo City is not an expensive place to explore as a tourist, as there are a couple of dirt cheap as well as free things to do in this city. So when you get to Osogbo City, try out these few things;
Be Liberated at the Nelson Mandela Freedom Park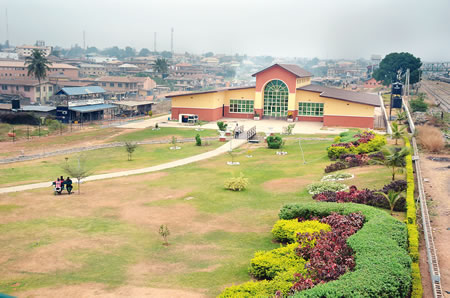 The Nelson Mandela Freedom Park located near the popular old garage in Osogbo has excellent aesthetics, a fairly popular place that would leave its visitors with a plethora of memories. From its small beginning, it has grown to become a large expanse of widespread beauty covering a remarkably large ground area. In fact, one can easily say it has given Osogbo City a facelift. This long stretch stylishly and meticulously designed park captures the culture, history, and essence of what Osun stands for in modern and standardized mode. It is thus regarded as an unfolding profile in tourist beauty. It has thus become a regular spot for different classes of citizens as well as created opportunity for a night out, in a safe environment.

As beautiful as the park is in the day, the sight at night is comparatively amazing, making the sights and sounds of Osogbo at night, an attractive experience. The roads of the park are well tarred and the garden has lush vegetation, which creates an image of modernity. One of the factors that make the place amazing at night is the way it is lit, as it gives the park an aura of a blissful and upbeat experience for its visitors. The park comes along with a big hall for restaurants, events arena and a water fountain, which is enveloped with seats for people to sit, unwind, and enjoy the physical attractiveness and elegance of an even-tempered and well-balanced environment. Other interesting facilities at the park include a design of fruits to show the agricultural prowess of the state and a monument of a brief history of past leaders. The Nelson Mandela Freedom Park is constructed in such a way that provides recreation for children and adults alike, as it features walking paths and decorative landscaping, thereby making it have all the factors that characterize an urban infrastructure, ideal for meeting the relaxation needs of individuals, families, and communities. On entry, a token fee of N500 is paid to have access to these the pack's facilities till sun down. And that's a steal if you value that sort of environment.

Take a Historic Walk on Amintiti Colonial Bridge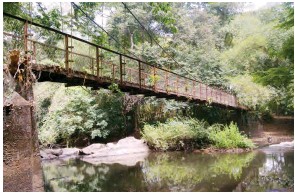 Known as Amintiti, the bridge has several has many outstanding features. It is a suspended bridge and is believed to be the oldest bridge in Osogbo. It was constructed by the colonial masters and used by them to cross the river to Oke-Osun farm settlement. It is a bridge which links visitors to the Sacred Grove of Osun as well as other communities. Visitors to the bridge are afforded the opportunity of enjoying the calmness and composure of the environment.
Window Shopping at the Beads Market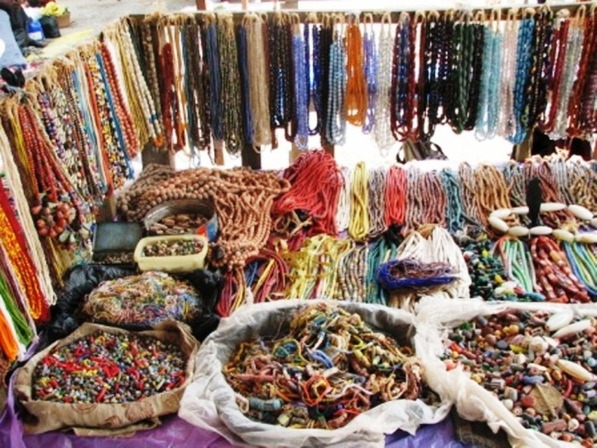 Alright so you?ve known fashion to be defined by gold, silver and diamond chain and you?re probably thinking that?s all there is to fashion. Well, I must say there?s a lot more to fashion than just that. Welcome to the world of beads. Natives of Osogbo are a people with a high sense of traditional fashion and if you?re a lover of customs and cultures, visiting the beads market would offer a great opportunity to appreciate how beauty is defined in other cultures and traditions. The beads sold in this market are very affordable, as there are varieties to choose from. In the event that you don?t want to purchase any one of them, as buying may not be your motivation for coming out here, ?going out to simply soak up the vim from the market is also a good idea. Window shop and enjoy the sight of the varieties of beautifully made beads.
Attend the Osun-Osogbo Festival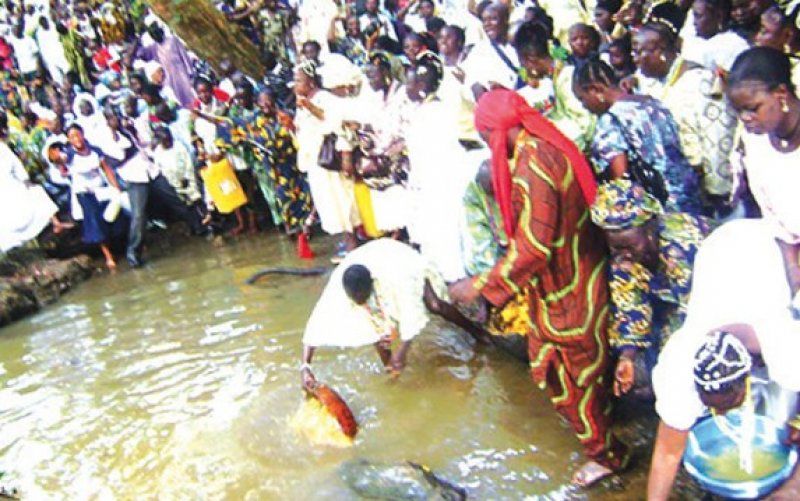 This 600-year old festival has over time seen a large influx of tourists to Osogbo, just to catch proceedings at the festival. It has evolved over the years to become one of the most anticipated celebrations in Nigeria and the world. It is held in August and observed to renew the pact the Osun people have with their deity. This 2-week adventure is a fun-filled and captivating event that leaves tourists and visitors asking for more. The procession starts from the palace of the Ataoja to the Osun Sacred Grove, where the river is located. It is led by the Ataoja of Osogbo and the Arugba-virgin maiden. The Arugba, a virgin, becomes the cynosure of all eyes, as she carries out the duty of carrying the rituals meant for the Osun goddess. At the river, tourists can pour out their wishes to the river goddess, who is believed to hear them and grant their wishes. A 642 years old lamp, which has 16 points, is lit on the 6th day, between 7 am and 7 pm, with the Ataoja as well as other prominent people dancing around it, to the admiration of tourists and visitors. There?s also a street cleansing carried out during the festival. During the street cleansing, people throng the streets to pay respect to the Ataoja of Osogbo as well as pray for peaceful co-existence in town. The program is enhanced by musical performances, competitions, and games, which help to entertain tourists. The activities that are carried out during the festival include; dancing, drumming and primal shouts and chanting that manifests as spiritual efforts to connect to a higher being. If you count yourself spiritually inclined, this might be the best thing ever. No amount of vivid, raw or exquisite description can replace what you will encounter once you are on the road. ?Remember, it is free for all and sundry so why not?
Go for a Throwback at the Museum
This is one of the best museums in Nigeria, with regards to its relevance to the Yoruba cultural heritage. This museum displays the creative values of its people, with mediums ranging from calabashes, wood carving, metal works, cloth weaving as well as tie and dye.
Feed Your Eyes at the Nike Centre for Arts and Culture
This is a place where you can buy art and crafts or you can simply walk into the maelstrom of artwork and cultural objects and savor the beautiful?emolument of creative minds in Osogbo and beyond. The center had the first of many international exhibitions in the 70s. It has had exhibitions and workshops in Nigeria, Europe, North America etc. The center currently enrolls students, who are at present making a living selling their works. ?We can draw our conclusion that the handlers of this center have done a good job of attracting world-class attention?and also maintaining it.

People who liked this also like...
Osogbo is the capital of Osun State. It is one of Nigeria?s artistic and cultural?centers. It has a population of about 900, 000 and it?s majorly made up of people from the Yoruba ethnic group. Osogbo city has several attractions, which are sure to get the attention of tourists and visitors alike.
Ogbomosho is a city in Oyo State, South-Western, Nigeria. ?It is bordered to the north by Ilorin (Kwara State) and to the South by Oyo town (Oyo State).The influx of people into Ogbomoso during the period of the Fulani wars of the 19th century enhanced the size and strength of the town. We bring to you a city guide around the town, so that you never have a dull moment.