My friend gives honest reviews about hotels that you won't find online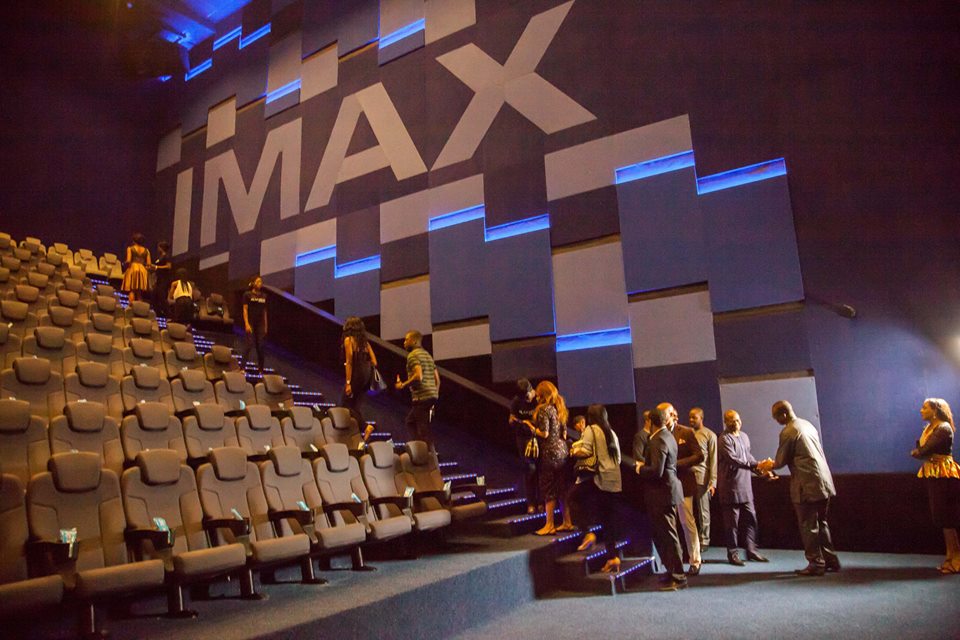 I have a friend named Seyi. This friend of mine had a job that made him move around very often, hence he had to stay at various hotels in various parts of Nigeria. This has made him available to give more reviews of hotels than even those who made the hotels themselves. If by chance you find yourself in a city where my friend had visited previously, all you had to do was get in touch with him and ask him to give a hotel suggestion. He was detailed and brutally honest with his reviews, so he was always the best bet.
The amazing thing about his reviews is that they can not be found online because he would rather tell you than put it out there. No matter how good the reviews are, he keeps them to himself till he is asked to say something about it.
The reviews are generally based on the structure of the hotels and the quality of service they render to their guests. Some of these hotels have been visited by my friend more than once, so that takes out the story of it being a one visit judgment. Even at that, if one visit is not enough to judge how great you run your business, then we should check what you are doing wrong.
Eko hotel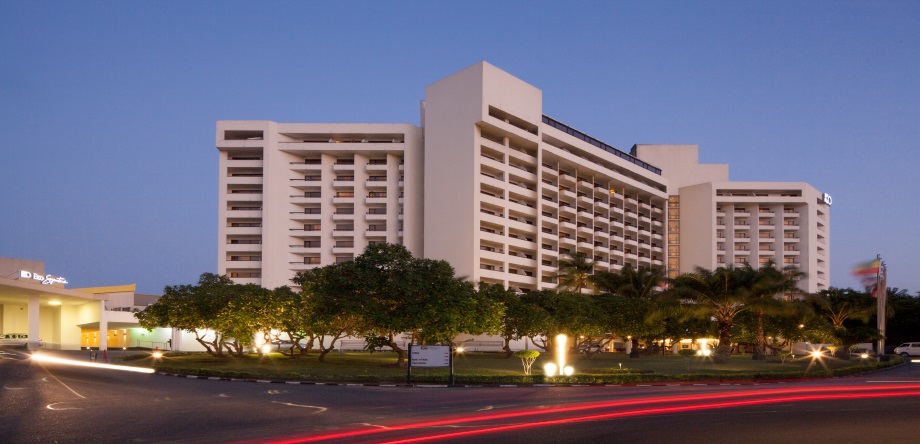 The first hotel my friend gives his review on is the Eko hotel. As the name implies, Eko Hotels Limited is set in Lagos.
The hotel is located at Plot 1415 Adetokunbo Ademola Street, PMB 12724, Victoria Island, Lagos State, Nigeria.? This location places the hotel in the heart of Victoria Island which shields it from the everyday hustle and bustle of Lagos, making it the perfect location for those who want to run from the struggles of Lagos. Plus, it's just a 10-minute drive to the city center and 45 minutes away from the airport for easy access.
My friend also mentions that the hotel offers an outdoor pool, barbecue and children's playground. So you have no issue if you plan on going there for a family getaway, you can be sure that your children will be duly occupied. He mentioned that the hotel 824 excellently furnished rooms spread across 4 hotels: Eko signature, suites, hotel, and gardens. How he was able to count all that is what I am still yet to find out, but the internet confirms that he speaks the truth.
The various hotels come with the guests preferred city choice and sea views. The rooms are fully equipped with Air conditioning, he said their Room service is also top-notch, and they have a Safe, Minibar, as well as a Flatscreen TV. Not only that, he talked about their amazing various room types. Saying that they have Oceanview, Non-smoking rooms, Suites, Family rooms, and Smoking rooms available
He said one thing he found amazing about the hotel was the provision of a terrace for the rooms as this provided their guests a really close by relaxation spot. Not just that, they also have a spa center, and With the best conference, tastefully furnished to a 7000-seater capacity, a world-class swimming pool,, amongst other facilities.
Guests, according to my friend, get to enjoy a meal at the restaurant, as well as banqueting facilities. The Eko hotel boasts of 8 various restaurants and 7 bars that serve a range of international cuisines. He says there is the Sky Restaurant & Terrace located on the roof of the Hotel, Crossroads Tex Mex Restaurant and Bar which serves Mexican Cuisine, 1415 Italian Restaurant (with a name like that, I?d be surprised to find it anywhere else). This is located at Eko Signature and he says they specialize in Italian Fine Dining, Kuramo Sports Caf? serves continental and local dishes with a full buffet.
They also have the Red Chinese Restaurant which is located at the roof behind the Eko Convention Centre. He mentioned a Lagoon Breeze Restaurant is known for its BBQ Fridays, The Grill "Steakhouse" located at EKO Suites, Calabash Bar, an open-air bar by Kuramo Sports Cafe offers special cocktails and other beverages
Their hotel amenities include; Free parking, Free High-Speed Internet (WiFi), Pool, Fitness Center with Gym / Workout Room, Bar/lounge, Tennis court, Airport transportation, Business Center with Internet Access, Free internet, Wifi, Public wifi, Internet, Outdoor Pool, Sauna, Restaurant, Breakfast available, Breakfast buffet, Poolside bar, Shuttle bus service, Car hire, Conference facilities, Banquet room, Meeting rooms, Spa, Baggage storage, Concierge, Currency exchange, Non-smoking hotel, Dry cleaning, Laundry service.
DMATEL hotel and Resorts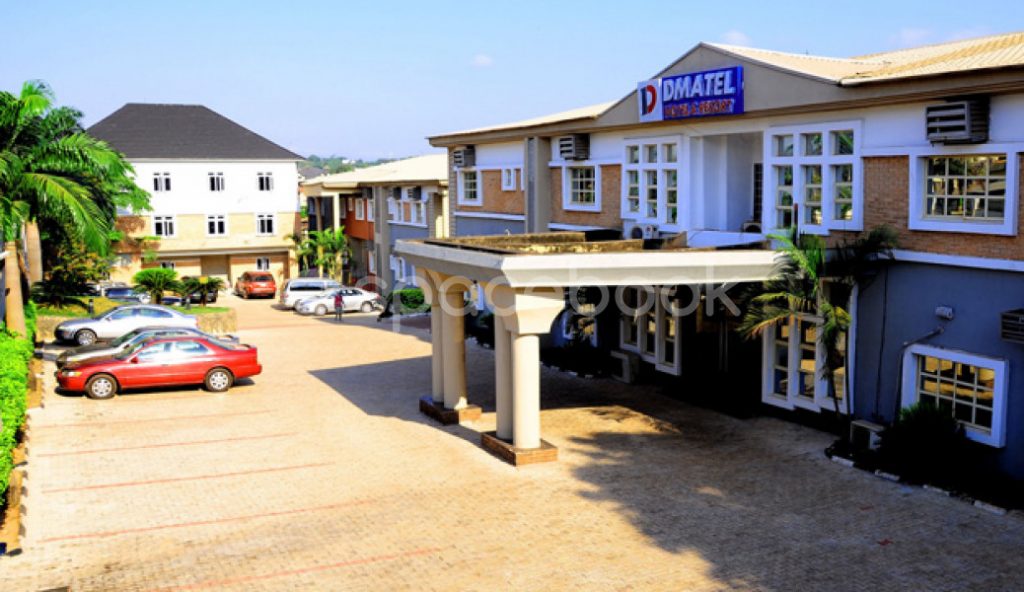 Dmatel hotel and Resorts is a 3-Star hotel located at 10, Agungi Road, Ajiran, Ibeju Lekki, Lagos, Nigeria. At this hotel, my friend was particular about them offering affordable luxury and comfort, the beautiful setting for guests and nature lovers as it is very close to the Lekki Conservation Centre.
He says that Dmatel Hotel and Resorts offers 52 world classrooms and suites for their guests. They have various room types ranging from Deluxe Executive, Deluxe Room, Royal Room, Presidential Suite, and Super Dmatel room. He has been there several times and he assured that all the rooms come with king-size beds, air-conditioners, refrigerators, telephone, satellite TV, en-suite bathrooms, and Wi-Fi internet access.
There is also an outdoor pool according to him and their bars are located in the coolest spot of the hotel which makes it a serene environment for swimming and relaxation. He says that they have hospitable waiters and well-trained chefs who prepare local and continental dishes, and they have restaurants that are fully air-conditioned to satisfy guests' tastes and preferences.
They also offer other range of services like dry cleaning, room service, ironing, and business center. As well as two fully-equipped and standard conference rooms for 50 and 100 people meetings and events respectively.
He says their check-in is from 2:00 pm with a valid ID card, while check out is by 12:00 pm. So if you are hoping to go there at any other time you can decide to book your room way ahead of time to make things easy for yourself.
Children under the age of 16 are allowed to stay for free, pets are not allowed and they only accept cash if you are going to be booking offline. Other amenities he was able to notice while at the hotel include a standard swimming pool, fitness center, 24/7 power supply, CCTV, security men.
FULL MOON Hotel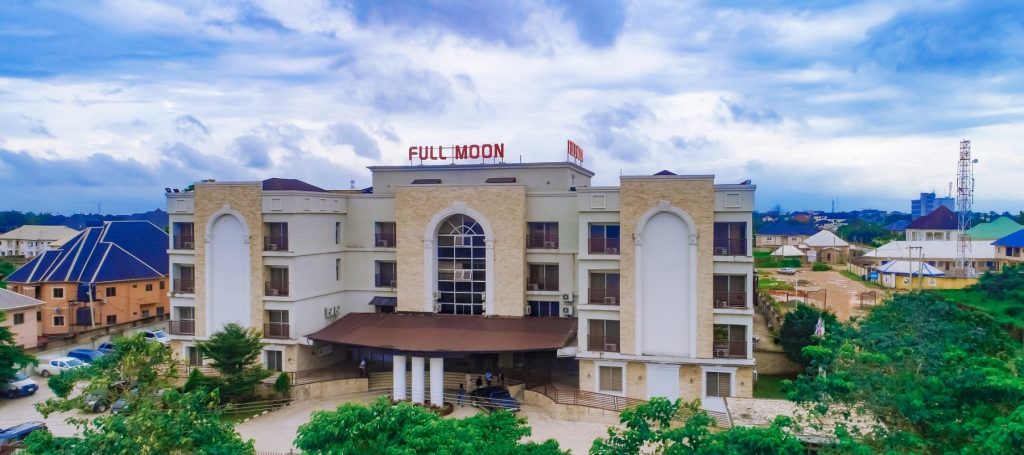 The first time my friend visited the Full Moon Hotel, he called me to say he was truly impressed with their service. When he gave me a full rundown of their structure and service range, I felt the same way and realized they truly deserved their 4-Star awarded them. The hotel is located at H1, Full Moon Avenue, off Akanchawa, road by Nekede junction, housing area C, New Owerri.
When he told me they had over 70 rooms with state of the art facilities and, I thought he was just trying to flatter the managers of the hotel, till I visited the place myself and viewed the breathtaking beauty first hand. They have rooms that are classified into Premiere, Deluxe, Executive, Penthouse Single, and Penthouse Double. Each of their room comes with excellent services and amenities including Wifi internet connection, flat-screen television with multi-channel satellite, air conditioning, ensuite bathroom with stand-in shower, refrigerator, mini bar in the room, hairdryer (this was an amazing discovery for me) and toiletries, daily newspapers delivered to rooms, telephone, cribs on demand, balcony and sitting area.
Parking was no issue at this hotel as they had adequate space for parking vehicles. Their restaurants offered a variety of dishes and their conference room was standard. For entertainment, they had a karaoke bar/lounge that was really up to taste and enticing, even with my frog voice, I was tempted to have fun. Then there was their gym, fully equipped. I was not a fan of exercise, but I took loads of pictures there out of fascination.
The hotel provides guests with an elevator for easy movement within the hotel building, a mini-mart for convenient shopping, laundry, and dry cleaning services and round-the-clock room service.
IBIS Lagos Airport Hotel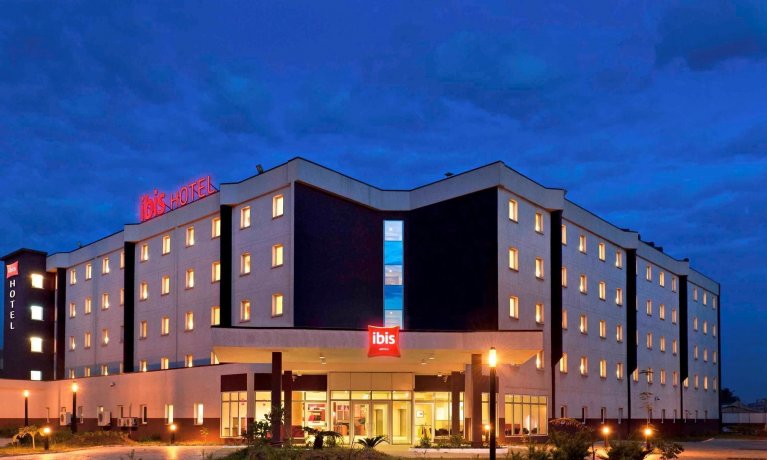 The day I visited Ibis Lagos Airport Hotel, I was in a hurry and needed an urgent place to ?crash? as they say. I totally forgot to call my friend to ask for reviews and check online myself. I realized they were a 3-Star hotel and I didn't feel any different, because all I wanted to do was sleep and wake up.
The hotel is located at 35/37 Murtala Mohammed International Airport Road, Ikeja, Lagos and it seems like something that is right in the state?s capital. It is close to the Murtala Mohammed International Airport though, hence the ease in picking it out as an option.
Once I was settled in, I called my friend Seyi to tell him where I was and asked for his review just to ease my mind. Firstly, he assured me that they have 188 rooms and they are all Standard Rooms, well furnished with air conditioner, refrigerator, high-speed transmission line, RJ 45 outlet, intercom, work desk, sofa, ironing table, flat-screen cable connected television set, CD player and a king-size bed. The en-suite bathroom is equipped with complimentary toiletries, shower, and hairdryer. I could see all these things, so I was rest assured that they were not out to cheat me. Then he said they served complimentary buffet breakfast daily and that sounded like music to my ears, pardon me for liking food too much.
He didn't stop there, he went ahead to tell me the things he felt I would have missed as I walked into the hotel. Mentioned facilities they had which include a top-notch restaurant where local Nigerian and continental dishes are available, an on-site bar that is well stocked with assorted wines, juice, and other beverages. Said if I decided to stay till late in the day I could visit their pool, or if I would rather visit their gym as I wake up in the morning for a great workout session the hotel comes with an event room as well as WI-Fi access, video equipment, and overhead projectors that can be made available upon request.
Additional services rendered by Ibis Lagos Airport Hotel that I notice because they asked very nicely, including 24-hour front desk, laundry/dry cleaning services, storage room, car hire, airport pickup and concierge, available at a surcharge fee, as well as free private parking.
RITA LORI hotel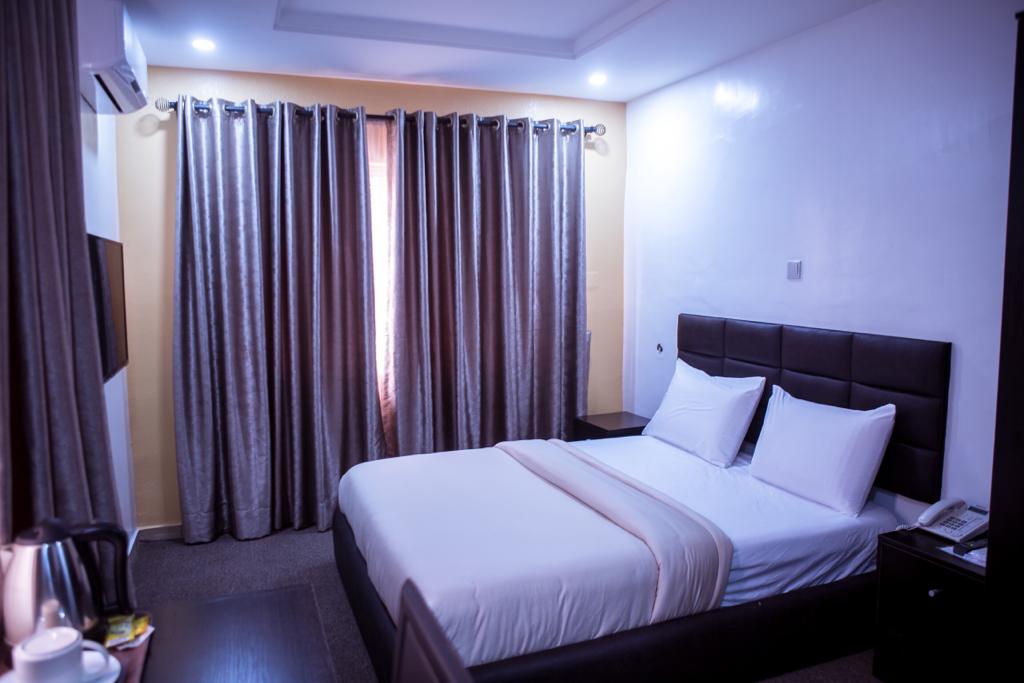 I've never been to Rita Lori hotel, but I asked my favorite hotel review expert, and he didn't disappoint, he filled me in on all I needed to know about the hotel. Rita Lori is located at 1 Taoridi Street, Off Babs Animashaun Road, Surulere, Lagos. My friend was quick to point out the fact that they had no front desk at the hotel and that to check-in, you had to call ahead of time to make arrangements.
Asides from this little change, he mentioned that the hotel had 50 rooms and they provided everything needed for comfort as it was fully equipped with Air Condition, DSTV, Swimming pool, Bar/Lounge, 24hrs Room Service, Free Parking, Restaurant, 24hrs Electricity, Telephone, Security, Dry Cleaning, Gym, Meeting Facilities, Spa, Internet. Free buffet breakfast daily, Restaurant, Bar/lounge, 24-hour room service, Outdoor pool, 24-hour fitness facilities, 24-hour business center, Accessible bathroom In-room accessibility, Roll-in shower, individually decorated, Private bathroom, Shower only, Free WiFi, Daily housekeeping, and access via exterior corridors.
They as well offer 24-hour airport shuttle service but you would have to contact them in advance to make arrangements.
AMAZON Hotel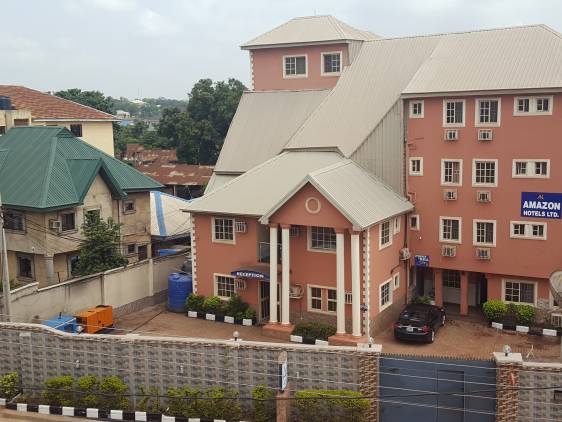 For Amazon Hotel located at 16 Njemanze Street, Enugu, Seyi mentioned how their structure appeared vintage which made it charming to him. He said despite the fact that the hotel was located in the city center, they still manage to afford a serene and quiet location ideal for relaxation, making it a perfect choice as it combines a homely feel perfectly with business comfort.
He said each room comes with a cable flat-screen TV, a work table & chair, a refrigerator, spacious wardrobes, telephone with intercom connection, sofa, toiletries, 24 hours electricity. Dry cleaning services and air conditioning. And they also come in different categories of Standard, Deluxe, Special Room and Villa Suite.
As the foodie that I am, I was quick to ask about the restaurants and was not disappointed to know I had options as they offer a range of both international and traditional cuisines. And their drinks are always available at the bar/lounge. Amazon Hotel also boasts of a well-equipped event center and they have a spacious and beautiful surrounding that may also serve as event grounds.
IMMACULATE ROYAL International Hotel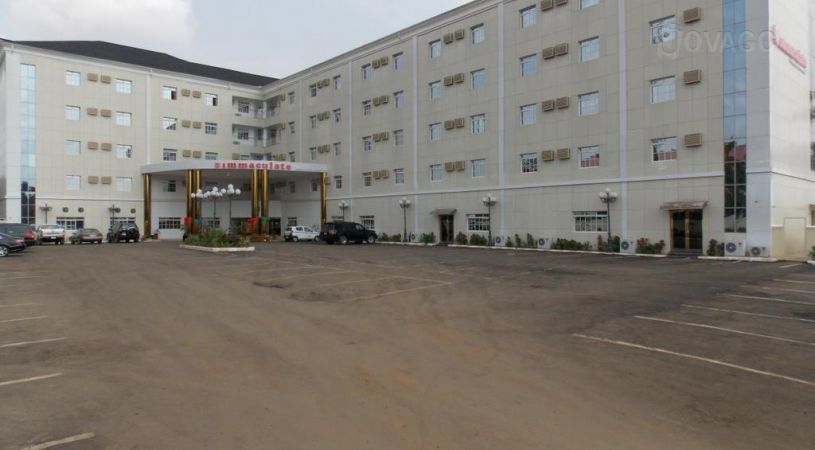 Immaculate Royal International Hotel situated in Owerri might have never made it to this list until I had to get a review for my mum. She was traveling to a wedding at Owerri and I wanted her to get all the comfort she needed. So the minute my friend told me that the rooms were fitted with adjoining sitting areas, furnished with plush sofas, I knew it was the best option. Knowing my mother, I knew she needed to feel at home and asking her to eat in the same space with the bed was not exactly going to do the magic for her. Each of the rooms were fully air-conditioned, had a worktable, where she could easily sit to make her daily calls and do her usual study, an ornate lampshade that made her yearn for a similar one at home, a wardrobe that she said made her want to get new clothes, a TV with satellite reception and an en-suite bathroom.
Breakfast was served daily for a surcharge and the onsite restaurant and bar serve a variety of meals and drinks. My mum kept saying she was tempted to go take a swim the minute she sighted their pool because they were flanked by parasols and dining sets. I was impressed because all the things my friends said was offered and available was what my mother enjoyed. Even their well-equipped fitness center and the spa that offered a range of body treatments.
My friend mentioned that they had an event facility and a business center, as well as laundry, concierge, car hire, airport pickup, and city shuttle services provided upon request. Onsite and valet parking were also made available. And most importantly, the premises are guarded round the clock.
The room types available include royal suite, diplomatic suite, ambassadorial suite, and a senatorial suite. An exclusive thing he mentioned was that they had an ATM On-Site, my mum really found this bit useful.
PARKTONIAN Hotels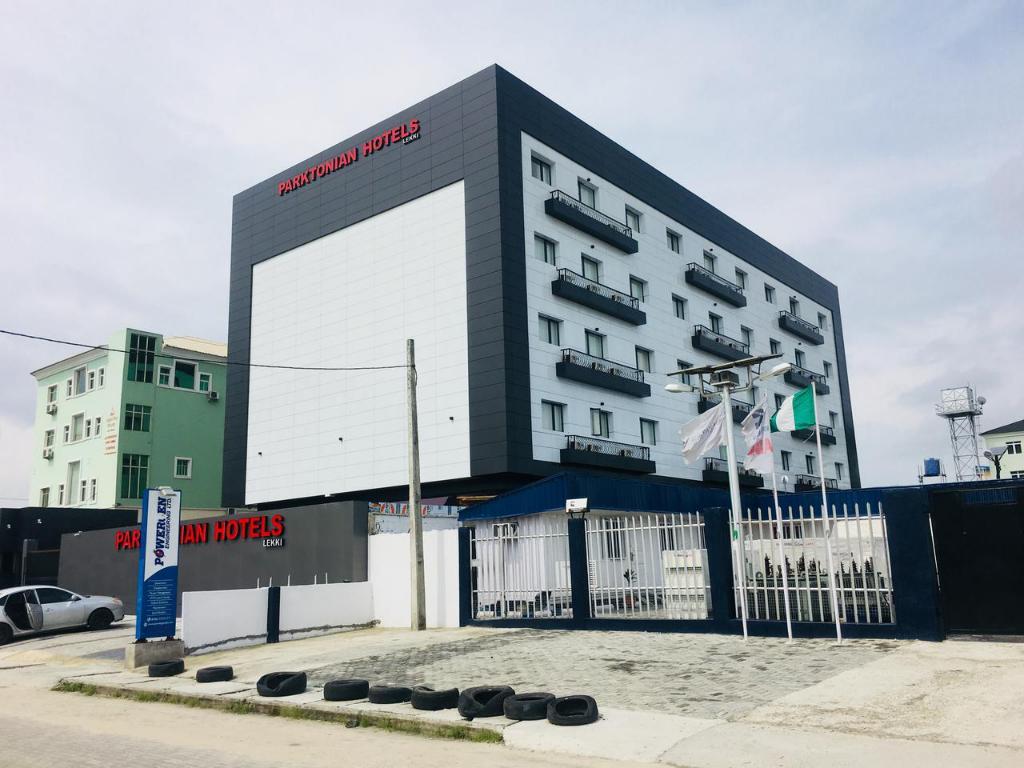 My friend gave his review of this particular hotel while we were trying to figure out top-notch hotels available at Lekki. The Parktonian hotel is situated at Plot 2 Kayode Animashaun Street, Lekki Nigeria. The hotel has just 38 rooms (I like hotels that stuff themselves with rooms so that they can focus on the service they have to render) my friend went straight on to mention that the hotel was equipped with a bar/lounge, Restaurant, and they had provision for children Activities. They offer laundry service, outdoor pool, provide breakfast, 24-hour front desk service, Air conditioning, Daily housekeeping, Free WiFi and free parking.
He was quick to point out the fact that the hotel was willing to let people in even after midnight, as long as you have contacted them and made your booking in advance. And you would be only admitted into their premises as long as you can provide the details of the booking confirmation. This seemed like a smart move from their end and I was impressed because it showed that they were security conscious. They offer continental breakfast but for an extra charge.
I think I've done enough for today, speaking for my friend is not so much fun as when he gives the reviews himself. I've told him to open a personal blog to share his reviews, but he would rather share offline. According to him, his offline reviews are more credible than the ones found online. Do you think the same way?
For those of you who think my friend needs to settle down already and stop moving around various hotels, do well to say such in the comment section and i will make sure I pass your message across to him.
If you have ever visited any of the hotels above, do feel free to share your reviews as well in the comment section. if you feel there is a hotel you have visited that should make it to this list, do well to mention them in the section as well.