15 Places to go and Things to do in Jos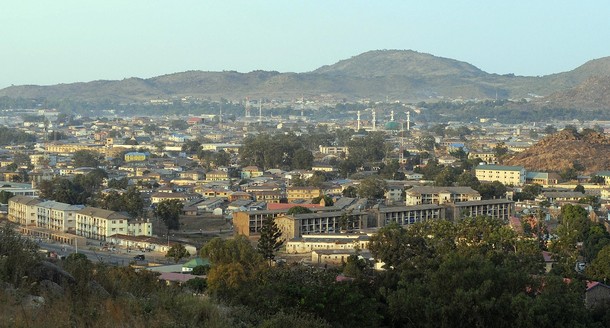 Hello Stranger. I see you're new here. Welcome to Jos.
Jos is a City in the middle belt region of Nigeria. It is the capital of Plateau State. The city of Jos is situated on the Jos Plateau (from which the State gets its name) approximately 4000 feet above sea level. The unique geography of Plateau State gives it features which are rare in Nigeria, which is why it is known as the Home of Peace and Tourism. A little warning before we proceed, Jos is no Lagos and you won't be spoiled for choices of places to see and things to do. The few it does have are more than enough and are all worth the experience.
1. Rayfield Golf Club
Established in 1913. Rayfield Golf Club lays claim to being the premier golf club in Nigeria. It's a hang out for many prestigious Jos indigenes. So if you're a golf enthusiast it's a definite must see and even if you're not its well manicured greens are always pleasing to behold and you can make arrangements to learn how to play the game of golf.
2. Rayfield Resort
Barely a km from the golf course you'll find a gem hidden from plain view. Thanks to its unique geography, Jos has small pockets of water bodies scattered around it. Built around one of the largest ones is the Rayfield Resort. The clear green waters provide for a pleasing atmosphere for picnics, get togethers and parties. The boat cruise around the small lake is a definite must on your to do list while in Jos.
3. The Jos National Museum
Home to variety of pleasant artworks and artefacts like the first train engine used to transport tin from Jos. The Museum is a must see and with a community of artists and artisans settled right beside it, you're sure to go home with a few beautiful and affordable pieces from future art revolutionaries.
4. Jos Zoo and Jos Wildlife Park
The Zoo is a lodestone for tourists looking to feast their eyes and for good reasons. Just right beside the Museum it has dancing Chimpanzees who do the most hilarious Michael Jackson impression, larger than life hyenas that rarely ever cackle insanely as expected and the huge yet gentle elephant. These are some of the thrilling sights and sounds of the Zoo.
The Wildlife Park on the other side of Jos is just as great as the zoo and in a big pocket of vegetation. Huge firs, stout cypresses and vivacious animals. A definite win win for any nature lover.
5. Jos Railway Terminus
The final stop for the railway in Jos. Though the railway is no longer functional, the terminus is a must visit. Well inside the city centre, it is home to one of the largest markets in Nigeria. The Terminus Market is relatively well organised, and is home to many fantastic shops.
6.Mr Lass
I'm guessing right now all these sights and sounds have worked up an appetite in you. Here comes Mr Lass to the rescue. Right at the edge of Terminus you'll find Mr Lass. Home of the best jollof rice, yes the best jollof rice in the middle belt and probably top 5 you'll ever eat. This is no party jollof. It's just as though the chef made the meal specially for you. It has this home cooked feel to it. It's pretty awesome. The Beans and Plantain is also good.
7.The Net Cafe
Now there are many great dessert places in Jos but none comes close to The Net Cafe. Formerly known as AfriOne, this quaint little shop/eatery specialises in desserts and pastries. You'll be spoilt for choice and with every day comes a type of dessert you've not had before. The Net Cafe is a definite must for any sweet tooth.
8.Felak's Burger Bistro and Meat Shop
Also situated in Terminus. Felak's have one of the the best burgers and sandwiches you'll ever eat. With really warm service. You'll be sure to come back. If you're ever there ask for Stephanie, she has the brightest smile.
9.Shawarma & Grills
As the name suggests this restaurant specialises in Shawarma and all things grilled, from suya to barbecued chicken. They serve really good spaghetti and meatballs.
10.Visit a Habib Yoghurt shop
Your trip to Jos can't be complete without tasting Habib Yoghurt. Their freshly made yoghurt blended with fura is to die for. Okay, I'm exaggerating but just a little.
11.Chinese Gardens.
Great Atmosphere. Good Chinese Food. Friendly Staff. Need I say more? Oh yeah they also make great smoothies.
12.Go Bicycle Riding.
If you're a fitness nut, this one is for you. Bicycle Riding Clubs (yeah that's a thing) organize marathon rides from one end of Jos to another. Always a site to behold. Like a mini Tour de France.
13.University of Jos.
Established in 1971. The Federal University is always a great stop for any sight seer.
14.Solomon Lar Amusement Park.
Home to lush vegetation and varying rock formations. This park is great for your picnics, family occasions and even wedding receptions.
15.Shere Hills
Your trip to Jos will be sorely missing without a hiking expedition to Shere Hills. Lying to the east of Jos, the summit of the Hills offer a fantastic aerial view of the City of Jos.
By now if you've gone even halfway through this list, you'll no longer be a stranger to the beautiful city of Jos. You'll feel so at home you'll never want to leave.