Fun Places To Take Your Kids To On Family Outings in Lagos
Have you ever been in a situation where the kids want to do something only children enjoy, and you, as an adult, would rather do something only grown-ups like, but at the end of the day, one group ends up sacrificing for the other? More often than not, we know it?s the children who get what they want and sometimes, that can be rather annoying. So why don?t you try some fun places where you and the kids can actually go without one group feeling obligated to go? Here are a few ideas for family outings in Lagos:
Cinema Halls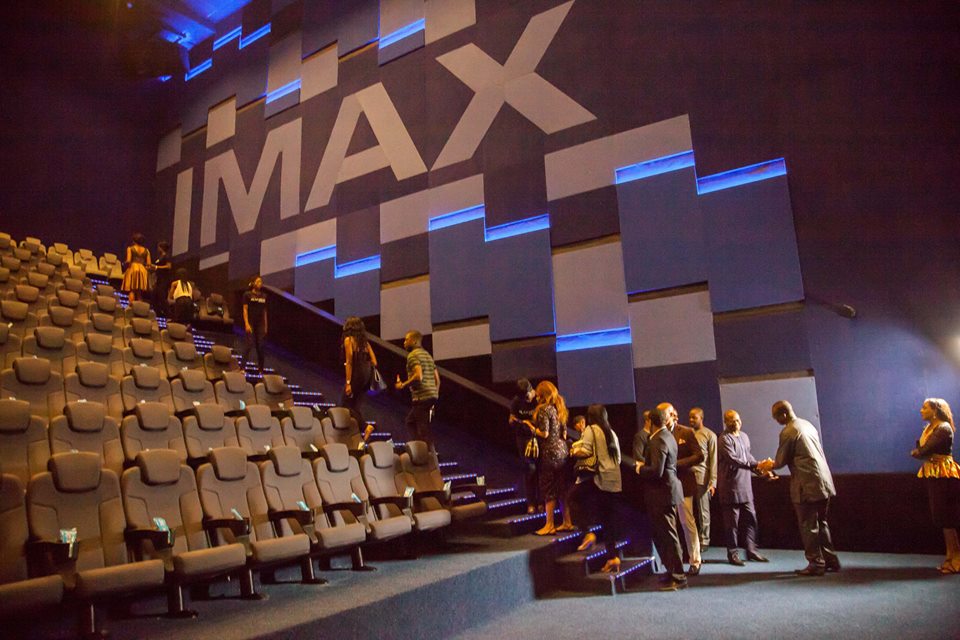 These have become the ?it place? when it comes to family hangouts especially because many of them are located in shopping malls which increase the range of activities to take on. Most shopping malls in Lagos usually have nice attractions for children, from indoor train rides to children's play areas and lots of restaurants to eat, drink, relax and now, with virtual reality, it?s an entirely new ballgame. This is a must do for every member of the family, there are several themes to choose from, however, the ?horror? is what many opt for. You would also find cinemas showing movies for children in most malls in Lagos. Some popular cinemas include : Ozone Cinemas: is located at?E center, Commercial Ave, Sabo-Yaba, Nigeria Genesis Deluxe?Cinema - Lagos: Is located in The Palms Shopping Mall, Lekki, Lagos. Silverbird Cinemas Galleria: Located at?113 Ahmadu Bello Way, Nigeria Filmhouse Imax: Located on the Rock Drive off Bisola Durosinmi Etti Drive Lekki Phase 1.

Beaches
People who love the sight of the sea and its?environment usually?find it entertaining to visit the beach on holidays. If you're a water lover, then Lagos has got your back because they are lots of interesting beaches to visit; Elegushi beach, Oniru beach, Lekki beach, Kuramo beach, Eleko beach, Tarkwa Bay, La Campagne Tropicana beach resort and the list goes on. The gate fees are usually not more than N2000 with a few exceptions to the exclusive ones. Please take extra caution when you take your kids to beaches and be sure not to allow them to go too close to the water without adult supervision. In fact, everyone needs to be careful at the beach. Do this and you?ll have a great time! ?Make sure you?re preparing to get the kids home before it gets dark.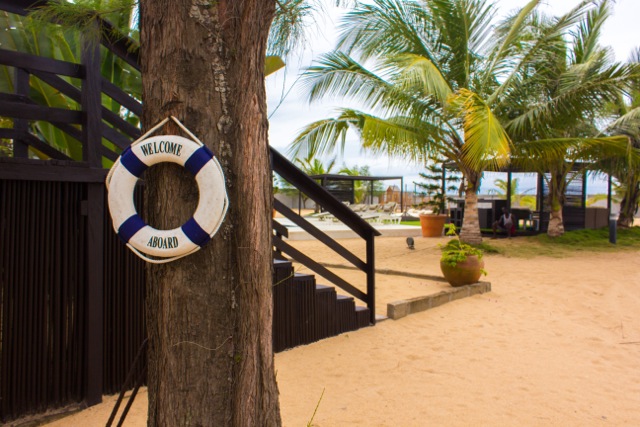 Also, remember to carry your mat, food and drinks if you're planning a picnic, some beaches offer those at a price, but it is better to be on the safer side. Be sure to also bring along a pair of hard slippers/sandals. People usually go barefoot in order to feel their legs piercing through the sands but this might not always be a good idea as some beaches may not clean up properly after parties and there might be sharp objects on the floor. ?Have your camera handy though; you?ll definitely need to take pictures by the water and on the horses. Dress ready to have fun! Nothing serious.
Dreamworld Africana
Dreamworld is a family park located in Lekki. It is one of the best places for family outings in Lagos because it provides?the entire family with a day filled with fun, leisure and adventure. The bumper cars are a major attraction for?children and adults.?There is a roller coaster ride ideal for the entire family and there is a toddler play area. Some rides require an age limit so check before payments are made to go on the rides. Dreamworld Africana offers something for the whole family, it is bubbly and has activities that children of all ages can enjoy. You can also sit and enjoy a meal while the younger ones are entertained. The park opens from Tuesdays to Saturdays from 10:00 am to 7:00 pm. Children will really enjoy the various options here. It is the ultimate place for wholesome family fun. Plan for a visit for the whole family as everyone gets a chance to let the children in them come alive.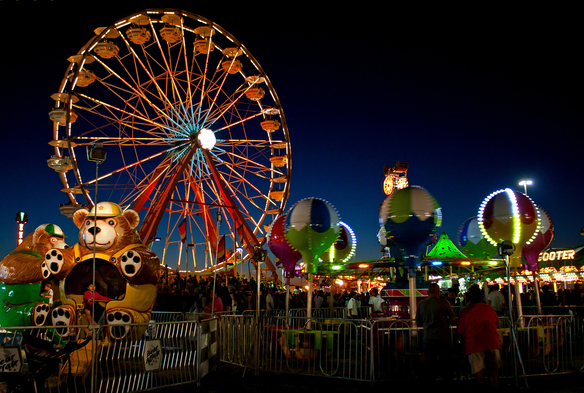 Mindscapes Museum
This is a?children?s museum located at Plot 1A, Block 3, Michael Olawale Cole Drive, Lekki Phase 1, Lagos. Children love this museum because they get to roleplay as builders, run a restaurant, go shopping and many other activities to get creative. The mindscapes museum is an indoor play space intended to provide children and their families with exciting new learning experiences. Children come here to explore, get artistic.?Each area is designed to engage children through the exploration of their five senses. And doesn?t this just bring joy to the parents?
The museum is a 3-floor building with different spaces each representing places children can relate to e.g. there?s a restaurant with toy foods, a construction site with toy tools, the bank with customized ATM and money. Many children museums are aimed at engaging children and creating experiences for them so instead of regular ancient relics, you will find life-like models, and hands-on exhibits that are created for children to touch and play with. The environment is set up for free-choice and fun learning which builds creativity. Mindscape is a place that explains how learning can be fun for people of various ages! The museum is open from 10:00 AM to 5 pm and the gate fee costs N1500.
Klub de lag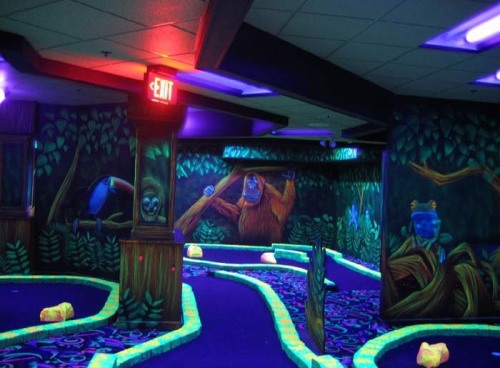 This is Located at 10A Babafemi Osoba Crescent, Lekki Phase 1. Klub De Lag?is a fun destination in Lagos for family leisure. It offers a wide range of activities including bowling, mini-golf, and kids play station. They are one of the first spots to offer wall climbing and ice skating activities in Lagos, so that should be a lot of fun! There is also a toddler?s arena and a safe swimming pool area. There?s a Vip Lounge where older people can relax. Dress as simply as you can, a pair of shorts, a t-shirt and sneakers or slippers should work.
GET Arena
Going karting is a typical example of a break from the norm and everyone can attest to this. Get Arena is located at Plot 6 Abila Onriu /BIS way, off Ozumba Mbadiwe, Oniru Estate, Lekki, Oniru, Lagos. It claims to be Nigeria?s first and only all-encompassing entertainment, corporate, social, and fun establishment.? The one and only place with state of the art go-kart track which surrounds the building. The kart track is loved by people who admire the thrill of being whizzed around in karts. There is a restaurant that serves quite tasty foods and also hosts little celebrations such as birthday parties. Trying delicious meals while a kart whizzes you around in high speed is an unbeatable experience. The GET Arena doesn?t open on Mondays but is open from Tuesdays to Sundays, 10:00 am to 9:00 pm.
Funtopia Leisure Resort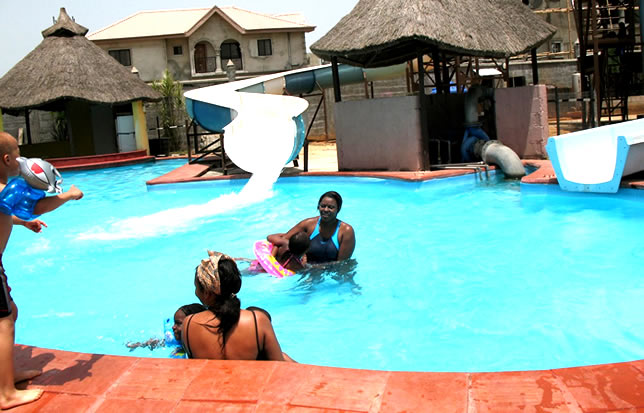 Funtopia is located at KM 35, Epe Expressway, Off Pan African University, Lagos. It is one of the leading amusement parks and spots for family outings in Lagos. It is an amazing place designed to woo children and even adults. With swimming, games, bouncy castles, carousels and much more, the resort offers a wide array of exciting activities to choose from. Make sure you come along with a nice and decent swimsuit. They are open daily from 10:00 am-6:00 pm. If you're in Abuja, you can also check out this compilation for great family outing ideas
here
.

Visiting Lagos? get amazing deals on all your favorite hotels when you
Book hotels in Lagos
on hotels.ng
You might also be interested in...
There is a quote that goes ?Time spent with family is time well spent?. ?Everything seems much better when you have family to share it with. Port Harcourt is the biggest city in Rivers state and one of the most loved cities in Nigeria. Popularly referred to as ?The center of a black jewel? by tourists, the coastal city boasts of many historical places and tourist attractions.
Address: Km 12, Lagos-Ibadan Expy, Ibafo, Ogun State
Hi-Impact Planet Amusement Park and Resort offers world class fun for the young and old, friends and families. There are games, rides and other entertaining attractions for the young and young at heart. You and your family will enjoy a good time and form magical memories. You can grab a snack or a pastry during your day of fun or enjoy full blown intercontinental meals?at the parks 3 food court.