Eat, Beach, Sleep: Whispering Palms Resort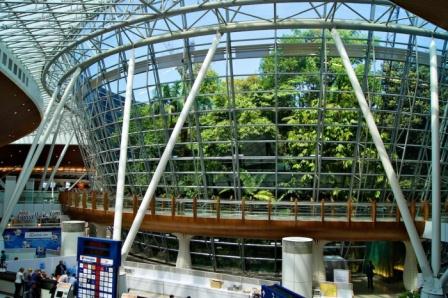 Address: Iworo Road, Badagry, Lagos Gate Fee: N500
Located just outside the hustle and bustle of Lagos. Whispering Palms resort is the ideal place for lovers to finally get that alone time they've always wanted. Located close to the seaside, with palm trees swaying to the music of nature. With the beautiful seaside to look out from their chalets and the beach to play on after the day?s activities. It is no wonder that this resort is a?haven for lovers, families and businessmen. Whose quest for peace and quiet drives them out of the hustle of the city into the arms of mother nature.
Things to do at Whispering Palms
At the resort, you get to experience spiritual and cultural enlightenment in an area free from limitations. You can enjoy lots of fun and self-nurturing activities.
Enjoy a Leisurely Stroll or Relax by the Beach
The Whispering palm, due to its close proximity to the beach is surrounded by palm trees. Guests can play around, or just take a lovely evening stroll with the one they love. Or take a solo stroll just to help clear the head and the mind. Also filled with beautiful and endless white sands, this enables guests to kick off the restriction of shoes or any footwear, and just walk around barefoot in the sand.

Rekindle the Romance
The resort is the perfect idea for people who feel, they have lost connection with what really matters, or they have lost their way to look at nature and appreciate all they have got. It is also a special remedy for couples having issues to just come around and partake in some of the activities offered by the resort. Helping them rediscover and strengthen their love and commitment to each other.
Walk Down Memory Lane
Whispering Palms located at Badagry, a well-known centre for pre-colonial and colonial Nigerian history. Badagry stands as an integral part of the trans-Atlantic slave route through which the slave traders transported thousands of Nigerians out of the country to be sold. As a guest at Whispering Palms, you will get easy access to several museums and historical buildings where you can immerse yourself in the?truths of your heritage.?
You can enjoy nearby attractions like The Badagry Heritage Museum, the Point of No Return; an island where slaves passed through and were never seen again. The Aqia?tree; ?where the first Christmas feast was held in Nigeria.

Lodge, Relax and Enjoy Delicious Meals
The Whispering Palms Badagary Resort has a team of highly trained staff, always on call to meet the needs and demands of its guests. It operates on a 24-hour room service. This enables guests to get help at any point of the day or night, as there will always be someone on call to meet these needs. The rooms air-conditioned and the restaurant serves local and international cuisine to fit the taste buds of the different sets of guests welcomed at the resort on a daily basis.
Get Sporty and Have Some Fun
Aside, from easy access to historical landmarks and centres, the resort offers authentic waterside fun with facilities such as a swimming pool, paddle boats, row boats, quad bikes, a miniature golf course, tennis and more. There's also an art gallery at the resort for lovers of art and a gym for fitness enthusiasts.?
People Who Like This Also Like...
Lagos is a coastal city with many beaches. After your visit to Whispering Palms Badagry, you may also like to visit some of the other
beaches in Lagos.
Kamp Ikare Beach Resort is the perfect holiday spot. If you are looking for some solitude, a romantic get away, or a place for a family retreat. This location with its rustic beauty with modern touches is perfect for you. The resort situated in a coastal village called Ikaare, is?accessible only by boat.
Atican Beach resort
?is a pristine ocean-side destination in Lekki. The private beach resort is a centre for fun and relaxation. Its clean white sand and beautiful?Carribean style layout make it a great destination for romantic getaways, group hang out and family outings. ?Whether you are looking for a great barbeque or cook-out location or a swimming pool with a great view, Atican Beach where you want to be.
A private beach owned by the Elegushi Royal family. It is arguably?the most popular beaches is Lagos. The beach is well known to be?the?go-to fun place for great meals, night time fun and hang out spots. This beach is the perfect spot for picnics, parties or social gatherings