Ilorin City Guide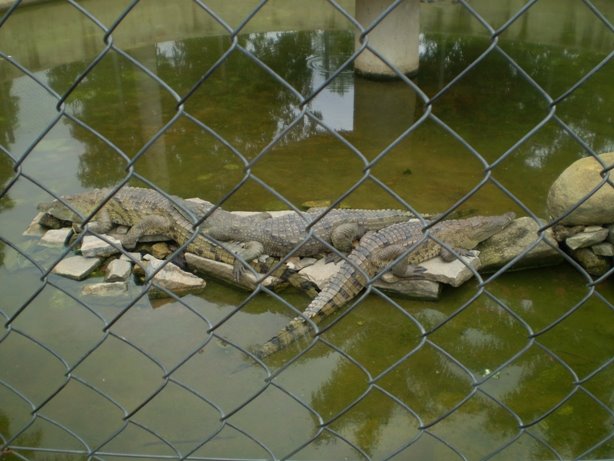 Ilorin is the capital City of Kwara State which is domiciled in the North Central geopolitical zone of Nigeria. The City of Ilorin has an estimated population of 1,622,438 inhabitants spread over a total area of 295 square miles. Ilorin has a Tropical Savanna Climate and mild weather conditions. Ilorin has a number of markets from which Visitors can purchase a variety of commodities and these Markets include the Central and the Ipata Markets. The people of Ilorin are known for delicious Cuisines such as the Offa which refers to sweet potatoes, Catfish stew, and Wara which is cottage cheese made with milk and soya beans. The City of Ilorin boasts several landmarks and tourist attractions which include the Dada Pottery, the Emir?s Palace and the Residence and Mosque of the late renowned Islamic scholar and cleric, Alfa Alimi. Ilorin also has a rich cultural flavor showcased in its numerous festivals which include the Esie Monuments Festival and the National Cashew Festival.

How to Get in Ilorin
Prospective travelers to the City of Ilorin have a range of travel options to choose from and these include
By ?Air
Transport to Ilorin is facilitated through the Ilorin International Airport which is located in the Fili area of the City. Several local Airline operators such as Arik Air and Peace Air conduct Flights from different parts of Nigeria to Ilorin. The average cost of getting to Ilorin from different Airports within Nigeria is 16,800 naira.
By Road
Ilorin is linked by Road to several nearby cities which include Ado-Ekiti, Akure, Osogbo, and Ibadan. Several Mass transit Companies carry out shuttle services from these and other Cities within Nigeria and these Bus Transport Companies include the Kwara State Transport Corporation and the Bekki and Sons Motor Limited. Prominent bus parks/terminals in Ilorin include the Kwara Express shuttle services located along the Murtala Mohammed Road and the Young legacy Transport Company with a bus park located along Unity Road Ilorin. The average cost of travelling to Ilorin from different parts of Nigeria is dependent on the region from which the trip is initiated.
Getting Around in Ilorin
Intra-City transportation within Ilorin City is facilitated by the use of commercial motorbikes, tricycles, mini-buses and taxi cabs. Most of these transport facilitators ply specific routes within the City metropolis at almost uniform prices. The average Cost of moving from one point within Ilorin to another point using this transport means is 100 naira. Personalized Cab and Tricycle services are also available within the City of Ilorin at costs averaging around 800 Naira.
Things to Do in Ilorin
The City of Ilorin provides Visitors with a range of fun-filled activities to engage in. From shopping to exploring the City?s breathtaking sights and scenery, Visitors to Ilorin are guaranteed a thrilling experience within the City.
Free Things to Do
There are so many fun things Visitors to Ilorin who are on a tight budget can engage in. These activities are guaranteed to provide entertainment to a Visitor without stretching his/her finances. These activities include
Visiting the City?s numerous landmarks and tourist attractions such as the Sobi Hills and the Okuta Ilorin.
Visiting or Worshipping at religious places like the Ilorin Central Mosque or the Emmanuel Baptist Church along Sabo Oke Road.
Viewing and/or participating in any of the City?s numerous festivals such as the Esie Festival
How to Spend A Weekend in Ilorin
The City of Ilorin provides a lot of fun and thrilling experiences that cannot be fully explored within a period of time as short as 72 hours. However, for Visitors to Ilorin who have a short period of time to spend within the City, the following list of activities could serve as a guide to ensure that maximum fun is derived from the short visit. Take a ride around town to get a feel of the City?s ambience. Sample the City?s numerous delicacies. Shop at Ilorin?s several shopping Malls and Markets Enjoy choice beverages at the any of the City?s pubs, Bars, and Lounges. Go partying at any of the City?s Night Clubs Lodge in an exotic Hotel.
Where to Shop in Ilorin
The City of Ilorin offers Visitors who might wish to go shopping for the purpose of purchasing specific Commodities there is a variety?of options to choose from in making their acquisitions. Some Shopping Malls that can be found in Ilorin include:
Shoprite Mall
This is an international Supermarket Chain located along Fate Road from where shoppers can get a wide variety of items from pastries to fruits and toys.
Adisco Shopping Mall
Located along the Murtala Muhammed Road, this Shopping Mall offers a variety of commodities for shoppers to explore and purchase. Other shopping Malls in Ilorin include the Gbose Mall and the Dool-X shopping centre.

The City of Ilorin has several markets where buyers can purchase a variety of items and these Markets include the:
Mandate Market
Which is located in the area around the Mandate Housing Estate where Buyers can purchase a plethora of items ranging from edible and non-edible commodities.
Baboko Market
Which is situated within the Oja Oba part of the Ilorin metropolis and offers Buyers a wide variety of items ranging from food items, groceries, and household equipment. Other prominent Markets in Ilorin include the Ipata and Ganmo Markets.
Places to Eat in Ilorin
There are a lot of eateries within the City of Ilorin where Visitors to the City can access the City?s indigenous dishes plus other regular foods and snacks. Prominent among these Restaurants and fast food spots is the
T and K Restaurant
situated along Tanke Road where Customers get treated to a menu of several local and Intercontinental dishes plus a wide variety of snacks and small chops.
Iya Yusuf Food Restaurant and Catering services
This Restaurant offers restaurant services alongside Catering services. Foods and drinks are also served. Besides the Restaurants and fast food spots, Visitors to Ilorin can get their foods from roadside food Vendors at much-reduced rates. The average cost of patronizing these vendors for one meal is 250 naira while the restaurants and fast food spots charge an average of? 800 Naira for one meal.
Nightlife in Ilorin
Nightlife in the City of Ilorin is always vibrant and fun-filled. The City has a number of Bars, Lounges and Night Clubs where Residents and Visitors can go to unwind and have fun. These include
At this hangout spot, guests get treated to choice beverages such as beers, wines, and Spirits plus excellent music from experienced disc jockeys.
This Night Club opens to partygoers from around 10:15 pm to about 3:10 pm. Partygoers at the Soundbar Night Club get to enjoy ample dance floor space, a Bar with an assortment of choice drinks and great music by excellent disc jockeys. Other popular night hangout spots in Ilorin include the Bethel Lounge and the Club Hookah Lounge.
Places of Interest in Ilorin
The City of Ilorin boasts several City landmarks and interesting places for Visitors to view and explore. These places of interest include
The Sobi Hills which are widely believed to have served as a means of protection to natives of the City during intertribal wars in ancient times.
The Okuta Ilorin located in Asaju?s Compound, Idi-Ape Quarters which is the stone on which one of the City?s founders known as Ojo Isekuse used to sharpen his metal tools.
The different Pottery workshops located at

Dada

, Eletu, Okekura, and Ita Merin.
The Cultural Center which boasts a gallery of art objects and antiquities.
The Kwara Metropolitan Park located along Unity Road.
Staying in Ilorin
Visitors to Ilorin have a plethora of temporary accommodation facilities to choose from as the City is littered with Hotels, Guest Houses, and Inns. These lodging facilities come in different price categories so Visitors to the City of Ilorin would have to choose the ones that suit their respective budget classes.
Low Budget Hotels
Located along Umaru Saro Road, this Hotel offers spacious rooms, regular power supply, and adequate parking space at very affordable rates.
This Hotel is located at No 1 Sodik Sulyman Street, off Fate Tanke Road and offers services like private bathrooms, plus fans and air conditioners. The average cost of spending a night at facilities under this category is 3000 naira.
Luxury Hotels
This Hotel located at Ahmadu Bello Avenue is grand and has top-notch facilities which include spacious rooms and an outdoor pool.
This luxury hotel which is located along Gerewu Road comes with breathtaking interior d?cor plus sofas and armchairs. The average cost of Hotels within this category is 22,600 naira.

People who Like Ilorin Also Like
Abeokuta City Travel Guide
Abeokuta is a city found in Ogun which is a state in the south-western geopolitical zone of Nigeria. Abeokuta doubles as Ogun state?s largest City as well as being the State?s Capital. The city has several spots for various activities ranging from recreational to social, business, e.t.c.
This is the Capital of Oyo State and also the largest and most populous City in the state. The City is also home to the popular University of Ibadan which was founded in 1948. Ibadan is also the City in which the first Teaching Hospital in Nigeria; the University College Hospital is located. All these and much more have been outlined in the blog post.