Best fast food restaurants in Lagos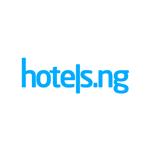 You may be?in Lagos for a brief work visit, or you may just want to spend some time exploring this huge mega city. While going about your business or having fun, you will certainly need to eat and this is a great opportunity to experience some nice fast food restaurants in Lagos. Here is a short guide to some of the very best fast food restaurants in Lagos.
KFC, Ikeja City Mall, Alausa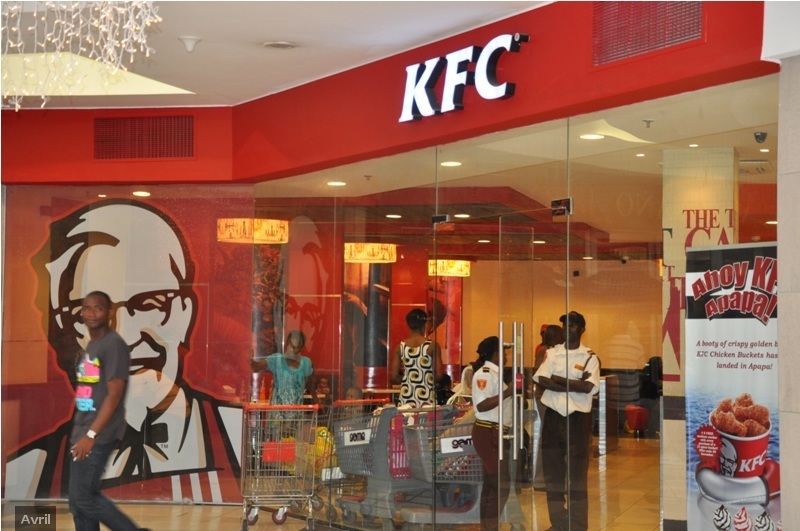 Despite the recent swath of KFC closures, this is one branch that remains very popular. It is Located at the eternally busy Ikeja City Mall at Obafemi Awolowo Way, Ikeja. This is a very nice place for a quick bite on the way to explore the mall or visit the cinema. It uses its limited space smartly, providing a private and surprisingly spacious seating area for customers. Of course, as this is KFC, you must be prepared to spend a little bit more. The cheapest meal on the menu will set you back by N1000, excluding drinks and extras.
Sweet Sensation, Opebi Road, Ikeja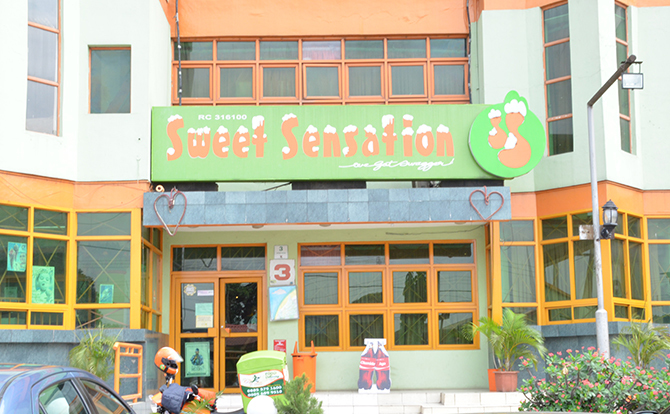 The location is what makes this Sweet Sensation outlet well you know...."sweet". It is smack in the middle of the Ikeja business district,?just before the roundabout demarcating Opebi from Allen Avenue. If you live or work around here, you can swing by and enjoy their quick service. The menu offers pastries, savoury treats and continental dishes at reasonable prices. You will also enjoy the comfy ambience in this well-maintained restaurant.
Mr Biggs, Diya St, Gbagada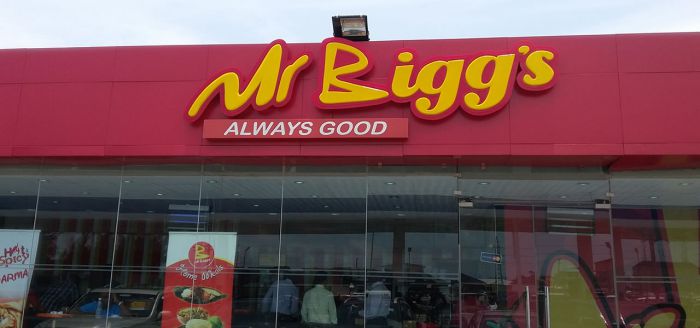 Let's face it, Mr Biggs may be well past its glory days but this particular outlet bucks the trend. This small but well-run operation is sited on Diya Street in Gbagada. It is targeted at traffic from the high street and nearby residential neighbourhoods. Space is at a premium here, so parking can be a problem, but there are no other significant issues. Service is usually quick, and the restaurant is kept meticulously clean, comfortable and air-conditioned.
Road Chef, Admiralty Way, Lekki Phase 1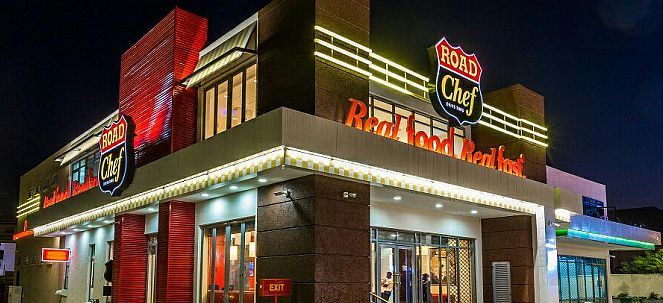 Now, this is one fast food restaurant that makes no bones whatsoever about targeting the premium end of the market. From its location to its eye-watering menu prices, this is not a budget eat by any means. Even the potatoes are imported. Yes,
really
. What you do get though, is an experience that is unmatched in Lagos. The food is genuinely outstanding, and quality is never compromised. There is also the very handy drive-through service, which is perfect for a quick takeaway on the way home. At N2,700 a pop on average, this is by far the most expensive restaurant on this list, but you know what? It's actually worth it.
Domino's Pizza, Herbert Macaulay Way, Yaba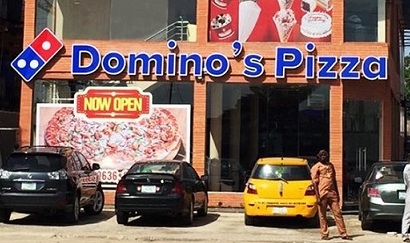 You can find Domino's pizza at the junction between Herbert Macaulay Way and Harvey Road. Originally a hot spot for University of Lagos and Yaba College of Technology students, it is now a popular after-work destination for the Yaba Tech industry hub. Its corner piece design gives you a unique vantage point on traffic moving past when you are inside. There is ample space to eat, hold informal meetings and hang out with friends and family. If you come during the weekend, however, parking might be an issue.
Chicken Republic, Akoka Road, Yaba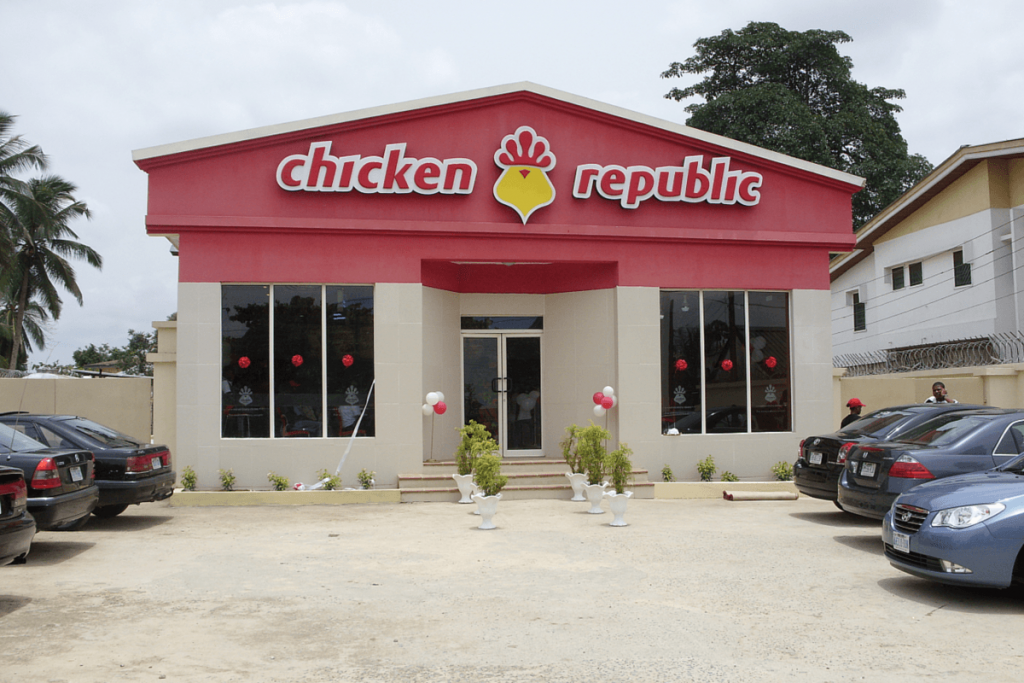 Chicken Republic, Akoka is one of a number of nicely designed and located Chicken Republic restaurants on the Mainland. Located midway between the University of Lagos and the suburb of Bariga, this restaurant offers you great food and ample parking at very reasonable prices. With its N500 Refuel Combo deal, it is a pocket-friendly night out for university students. It is also a great evening stopover for professionals working in Yaba, on their daily commute home.
Tantalizers, Allen Avenue

Tantalizers is one of the best fast food restaurants in Lagos to eat at mostly by virtue of its excellent location at the corner of Allen Avenue roundabout. It also has a large exclusive parking lot and a very private eating area. It is set-back about 20 meters from the busy road. Another interesting fact is that this was the very first Tantalizers restaurant to open in Lagos. The food is moderately priced, and the continental offerings, in particular, are worth a punt. If you are willing to overlook the occasional power outage and slow turnaround times, this is a very good morning restaurant for the busy professional.
Tastee Fried Chicken, Oyin Jolayemi St, VI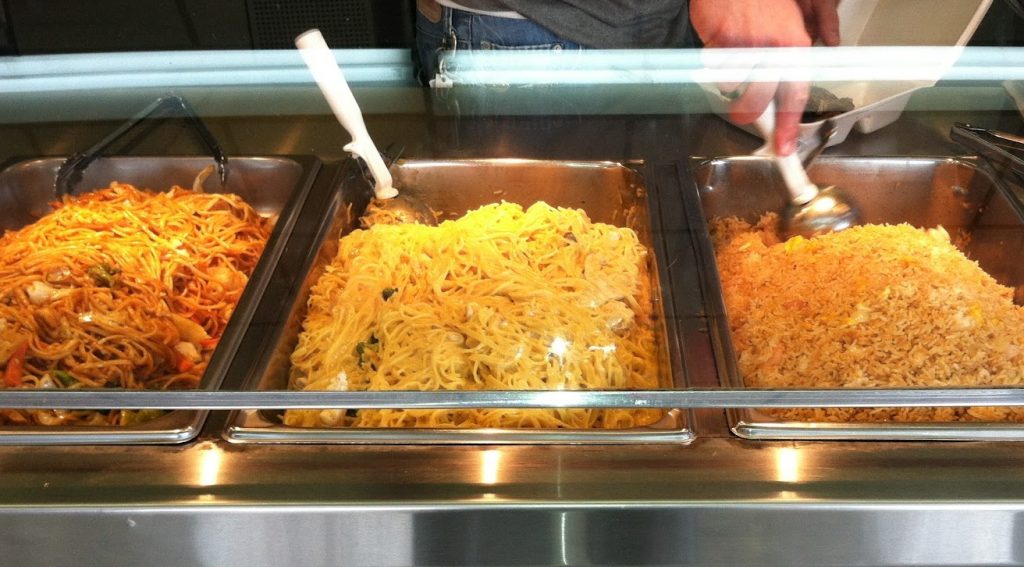 This is?the HQ of Tastee Fried Chicken, also known as
Bunmi's Place
. It is, without doubt, one of the very best fast food restaurants in Lagos with a fiercely loyal clientele from the surrounding banks, service businesses and tech startups. Focusing majorly on its continental offerings, it delivers food that is exquisite and reasonably priced. An ample rice and chicken meal with a drink will typically set you back less than N1500. There is also an extensive two-storey seating area which is very popular with workers on their lunch break.
Tastee Fried Chicken, Opebi Road, Ikeja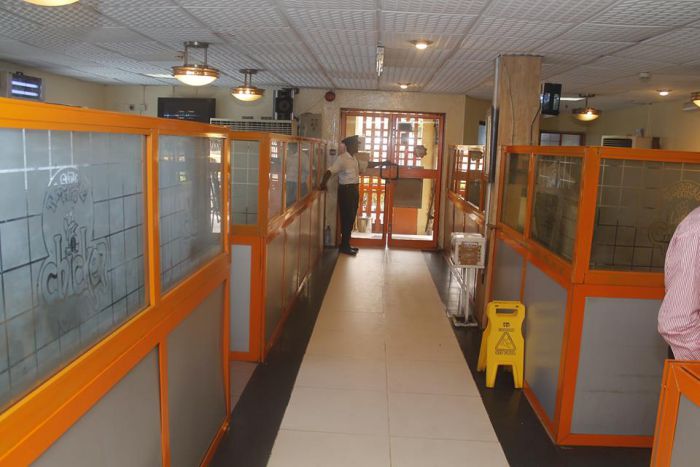 Its location and visibility might not be as ubiquitous as its big brother on Victoria Island, but this TFC?s reputation for delivering excellent food is no less widespread. Daily, it delivers breakfast and lunch orders to businesses and individuals across the surrounding Alausa, Toyin Street and Allen Avenue areas.
Urban Fuxion Food Truck, Lekki Phase 1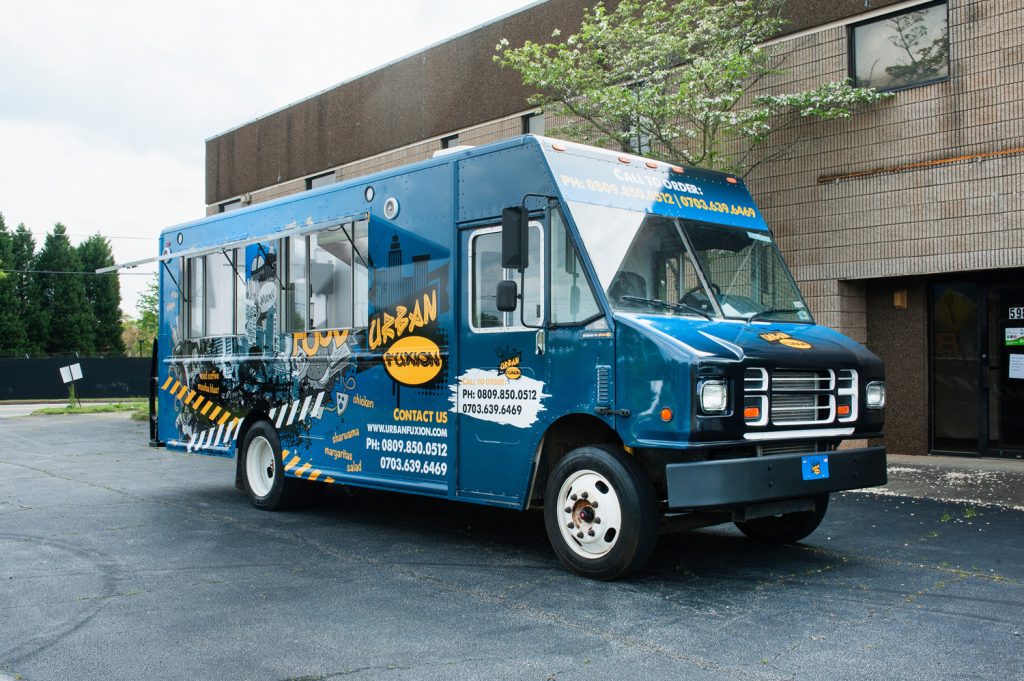 The concept of a food truck is still a novelty in Nigeria, but not for much longer because Urban Fuxion's food truck in Lekki Phase 1 has built a loyal ever-growing customer base. Its prices are noticeable 'Island', but the food makes it worth it. The menu is majorly urban American cuisine including barbecue ribs, chicken wings and even Margaritas. On weekdays, Urban Fuxion is in Lekki Phase 1 (their exact location is revealed on Instagram every day). If you fancy a late night bite, you can usually find the truck on Adeola Odeku St, Victoria Island.
Fuud, Ajose Adeogun St, VI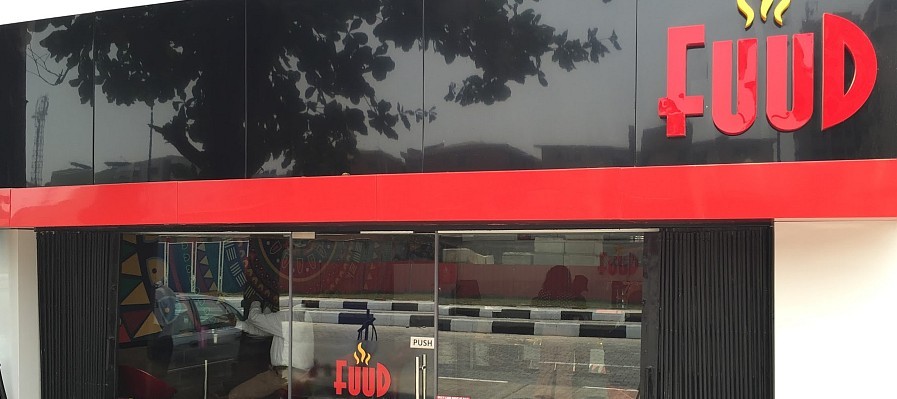 Until Fuud came along, apparently no one figured out that Victoria Island needed a nice restaurant with great food and better prices. Since opening, this outlet has been inundated with corporate and individual orders every single day. And why not? Where else on the Island can you get a full plate of jollof rice and chicken with a drink for just a little over N1000? ?The brilliant internal ambience too is a study in space management and use of natural lighting. You can come in, order your food, eat on a shelf table, check your email and go out in 15 minutes, without feeling rushed. ?This is easily one of the best restaurants in Lagos for a quick lunchtime stop or an even quicker breakfast delivery order.
Steers Burger, Ikeja City Mall,?Alausa

This a great place to hang out after-work if you are up for the supercharged, fast-paced atmosphere of Ikeja City Mall, . The food is as lively as the boisterous atmosphere and the menu policy seems to be, 'Go all in with flavour or don't go in at all'. It works very well because the food is great and the burgers are soft, well made and full of taste. The other offerings are similarly pleasing, and the prices are not head-scraping. As long as a lively eating?experience is your kind of thing, this is one of the best fast food restaurants in Lagos to eat at.
Barcelos, Adeniran Ogunsanya St, Surulere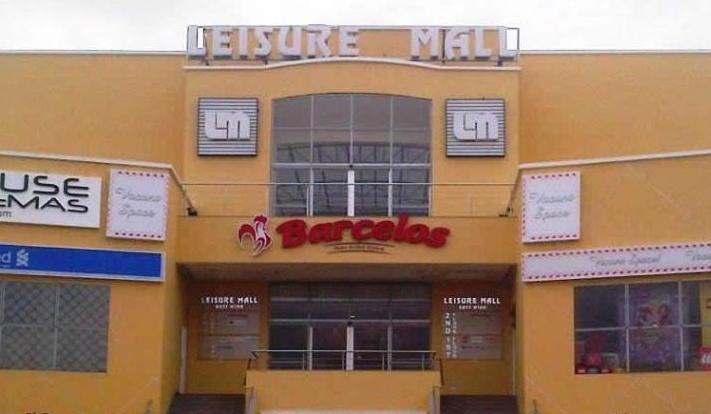 The food is brilliant, and the prices are OK at this Barcelos outlet. ?What its Adeniran Ogunsanya location lacks in silence, it makes up for with its relaxed internal ambience. The fries, pastries and burgers are worth trying out, and the staff service is prompt and courteous. Like every other Barcelos outlet, however, this one boldly advertises its family restaurant credentials, so it is always filled with families and giggly teenagers. If you don't mind being surrounded by proud parents and cool high school kids, then this is a nice hangout spot with some nice food.