Hotels.ng Just Got Funded! - Here's What We're Planning Next
We are constantly improving Hotels.ng.
This is what we do everyday. It's our full-time job and our responsibility to our users. Usually these improvements are a series of small changes and updates to our platform or our approach to customer service (social media included). Some of these changes are so small they go unnoticed by all but the most scrutinizing of our users, but when we measure them, we see the positive impact on the overall quality of our product offering. This is what we do. And it makes us happy. We are even more elated to announce big changes. Recently we announced that we received $1.2m in funding from Omidyar Network and EchoVC Pan-Africa. [Read about that
here
] We are happy to be partnered with Pierre Omidyar (eBay founder)'s Omidyar Network and EchoVC, and the feeling is mutual. These are investors interested in what we do, and they believe in Hotels.ng. This funding makes it possible for us to do a lot of things. For starters, we are now optimizing our inventory process to capture hotels in real time.  We can also - finally- expand into other African countries.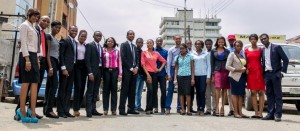 We have come a long way from 2013. We have continued to grow and deliver value to our users on an individual basis. We are especially proud of that. As our CEO Mark Essien puts it, "we're forging ahead into relatively uncharted territory; E-commerce in Africa is a massive market to conquer, but there are no hard and fast prototypes from which to follow; We cannot simply replicate Western models here; we have to build our own blueprints from scratch, which takes significant investment, both in terms of time and money. This additional capital will allow us to realize the next stage in our ambitious growth plans, which will see us consolidate our position as Nigeria's market leader in online hotel bookings, with a view to expanding our service into other African markets, such as Ghana." In the days that follow, we will be revamping our platform and updating you on our onward journey. We are constantly improving 
Hotels.ng.