The Quest to Boost The Local Supply of Software Developers in Nigeria
In the middle of August, Mark sent out a tweet, calling for anyone interested to sign up for the Hotels.ng remote internship program for software developers. The invite was open to literally anyone, whether they had a tech background or not. Only requirement: you know the drill by now. Soon afterwards, a number of persons applied to join in and the program kicked off.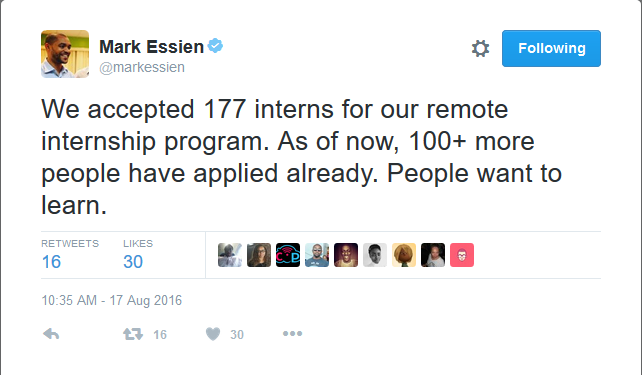 The interns were coordinated via Slack and handed a couple of tasks to test their mettle via a bounty system. Those who completed their tasks and hit the bounty progressed to the next stage of the program. Naturally, there were those who didn't make the cut as they dropped off at some point. The goal of this program, Mark says, is to train a set of intern developers who could eventually get hired as pro developers by Hotels.ng and other companies in the ecosystem in search of tech talent.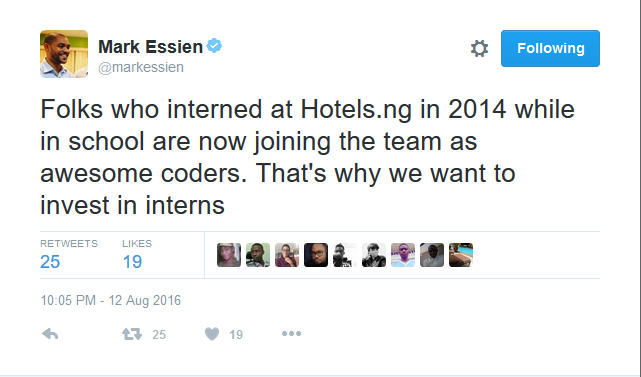 Someone who can relate well with the ideals of such a program is Iyin Aboyeji, Co-founder of Flutterwave. His previous company, Andela, trains interns to be pro software developers and then connects them with top jobs afterwards. Iyin was quick to chime in on the Hotels.ng Remote Coding Internship program, by reiterating the need for everyone to work together to increase the local supply of developers.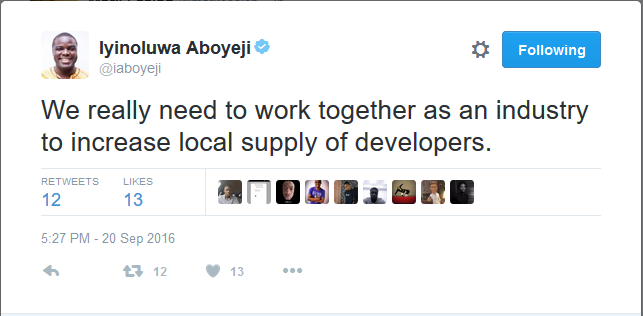 It'll be interesting to see the overall impact such a movement eventually has on the industry; more so, for the teeming amateur developers eager to hone their skills and garner experience by working on real-time, industry-related projects. Stephen Afam-Osemene, currently a back end developer intern at Hotels.ng's Remote Internship Program says while the program is challenging, being on it has forced him to get familiar with new tools and understand how product development in a collaborative environment works. It's the general feeling shared by everyone else who made the final cut. While there are a number of ways to bridge the [tech] talent gap that the industry needs to thrive, programs like this will go a long way. Maybe other Tech companies will join the bandwagon as well and start programs that will make this happen faster. There's no telling what the cap will be on what opportunities and companies these efforts will bring. PS: The next admittance into Hotels.ng's Remote Internship Program will be in January 2017.